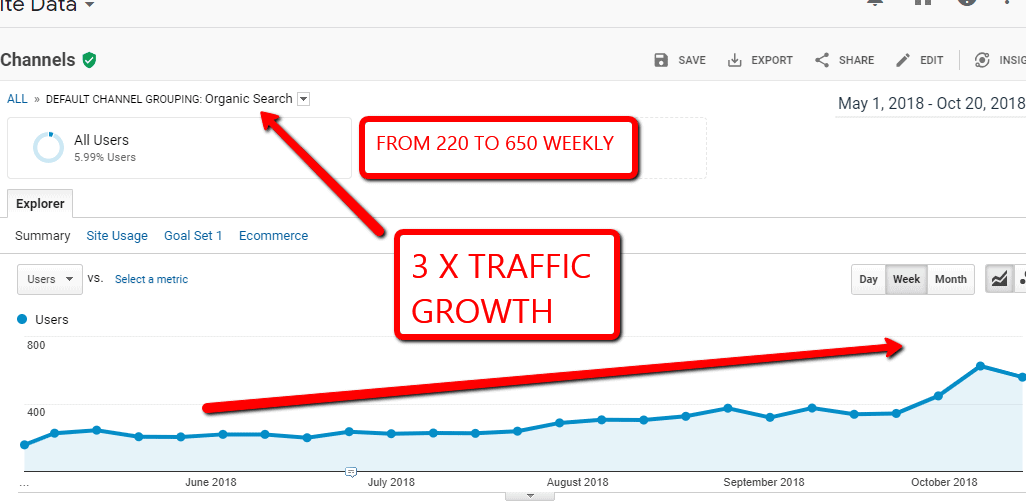 Before optimization

Domain age: 1 year.
Niche: IT related.
Traffic: under 220 per week.
Real situation: The website was published on a new domain in 2017, with some basic onpage optimization with a strong technical code optimization. The website got 8 different languages that did not get any attention from Google. The project managed to grow up to 220 visitors per week in organic traffic.
Goals:
The client has approached us asking to perform SEO audit with a possible action plan for organic growth in Google search engine. After the audit, we worked out realistic goals to be set for 6 and 12 month.
Changes and jobs performed:

Full website audit
Full onpage content optimization
Optimization for regions according to languages
TOP 20 competitors content analyzed and created for client
Content rewritten and optimized
Duplicated content removed
30 relevant blog posts added
Auto-generated sitemap created and submitted to GSC
Off page optimization started after 3 month
Results:
Trippled traffic from Google search engine from 220 to 650 visitors per week
Increased dwell time
Convertion increase 10%
Futher action plan:
Add more relevant pieces of content
Create backlinks that competitors have
Grow website authority (website relevancy)
Request a proposal
If you want similar results for your website, feel free to discuss your project with us. Follow this link to request a proposal →