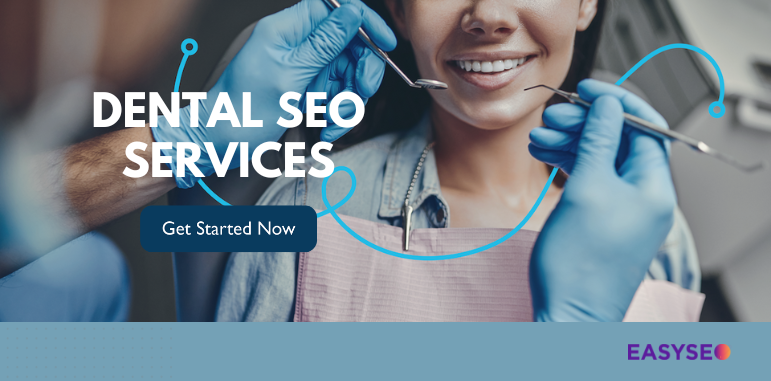 Benefits to EASYSEO dental clients
Fast SEO results in first few weeks
Full transparency in every step
24/7 access to your campaign SEO dashboard
Data driven competitors analysis and strategy
Need maximum SEO results in shortest time?
Click here
Data driven SEO and marketing company for dentists
If you are looking for best dentist SEO company to attract more patients  to your website, you are in the right spot. EASYSEO team can expand your online visibility and attract more visitors who are searching online for dental services.
Project's dashboard with all competitors' data makes it easy for us to identify main path for your project growth. In minutes we identify where are the opportunities for growth using two main functions of comparative analysis. They are:
Keyword GAP analysis, which shows keywords your competitors get the traffic, but your website does not
Backlink GAP analysis, which shows backlinks that you competitors have, but your website does not
EASYSEO makes dental marketing easy
Experience in dental marketing and SEO makes it easy for our company to get results to any dental practice. Our company relies on data analysis that we extract from your TOP competitors. All of our clients have access to the same data what makes our approach the most transparent on the market.
Local SEO campaigns for dentists
Local SEO works perfect when a dental business needs clients from surrounding areas. If you decide to take that path, then you have to get your dental practice to the highest standards, cause getting awesome reviews is a part of the SEO puzzle.
Google business profile, also known as Google my business (GMB) has to be included in any dentist local SEO marketing strategy. Your local online visibility will be improved by our local SEO team specialists. We are so sure about that, we can provide proof and guarantees.
How much does SEO for dentists cost?
Prices for dental website SEO depend on few factors, however, the average cost for dental SEO is $1000 to $3000 per month. Hiring an independent SEO expert consultant can range between $100 to $300 per hour.
Organic SEO steps
Step 1. Audit Your Online Presence
When we start working with any website SEO, we perform keyword audit, which helps to identify current keywords' positions in TOP 100 . Our client always has access to initial keyword ranking data and the progress that follows.
Step 2. Initial Keyword audit and optimization
Step 3. Website audit
One of the most important steps is proper website audit. We identify SEO structures and onpage issues that hold back the website from ranking higher in SERP. When audit is finished, we discuss the results with our client and setup a plan to fix all issues.
Step 4. Onpage optimization
Monthly onpage tasks need to be performed to rank a website on page one.
Optimization of Meta Tags
Content optimization
URL optimization
Optimization of Alt tags
Minification of images
Analysis and fixture of broken links
Canonical issues
JS and CSS files optimization
Creation of XML Sitemap
Page speed optimization
Step 5. User-orientated website content
Our copywriter creates a copy that satisfies both consumers: your websites visitors and search engines.
Step 6. Competitor analysis
Competitors are analyzed using different methods. The main methods are:
Main SEO metrics comparison using a dashboard
Backlinks comparison
Current keywords ranking comparison
Step 7. Ongoing Link-Building and Citation-Building
Off-Page SEO is what drives results after all on-page work is done. Based on data driven analysis our team will build links that are crucial for dental website to be ranked on page one of Google. If competition is high, we can build links from medical related webpages with real traffic. An extended budget for SEO can be spend on building links from title pages of medical and dental websites.
SEO: A crucial investment for your dental practice
Building a solid SEO for your website is an investment in future profitability of your dental business. If you do not take action now, your competitors will. Competitors that are already ranking on a first page of Google have been investing in SEO for a long time. The longer your business postpones the start of an SEO campaign the longer and more expensive it is going to be in future to get the desired results.
Dental practice website will rank higher
We are absolutely sure about the results that we bring to our dental clients. If you have been burnt by SEOs earlier, you can ask us for guarantees. Tell us what you have done in the past, what methods have you tried earlier and we'll tell what impact that had on our dental business online visibility.
Ready to hire a top dental marketing agency?
Would you like to become another success story for our agency? Tell us your story and we'll turn it into online success.
Share your story and goals of your business with us
Click here