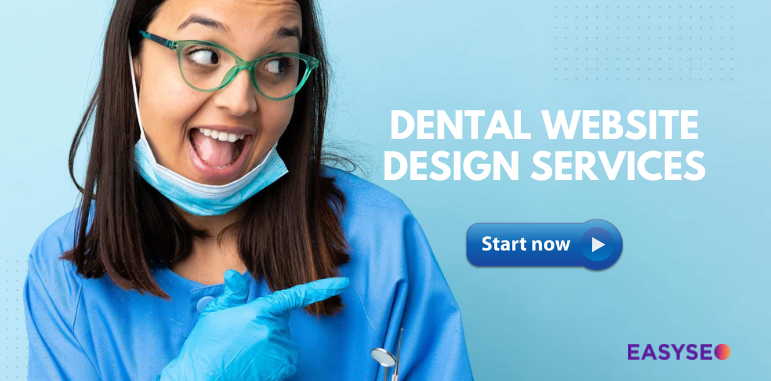 Dental website design
Dental website development services from EASYSEO include new design styles, continuously updated content, dynamic features such as video, and ongoing back-end website coding updates.
Website to generate more business:
Fast loading website ( 0-3 sec.)
100% SEO friendly website
Designed to convert leads
Easy to manage website content
Easy to update and add new function
Ongoing support
Standard and custom templates with fast loading speed is always an option with EASYSEO, ensuring you get the best quality and online performance with current budget.
The EASYSEO design and development team has over 5 years of experience creating dental website designs that convert visitors to patients.
Dental SEO
Dental SEO can help improve your website's ranking in search engines Google, Bing and others. The higher your website ranks, the more likely people are to find it.
The proper on-page SEO is one of the most important factors while planning and developing a new dental website. With EASYSEO you will get a well researched and adopted for your business website architecture based on a keyword research.
Proper SEO is to help:
Improve your website's visibility online. If your website is easy to find, more people will visit it. This can lead to increased traffic and more leads.
Increase traffic to your website. The more people that visit your site, the more chances you have of generating leads and making sales.
Increase the number of leads that you receive from search engines. If people can easily find your site, they are more likely to contact you about dental services.
Increase the sales that you generate from your website. The more traffic you have, the more chances you have of making a sale.
Proper on-page SEO can help improve the overall quality of your website. A well-optimized site will be easier to use and navigate, which can make it more enjoyable for visitors.
Converting traffic to clients
The cross channel approach drives traffic from any media that needs to be converted to appointment requests. EASYSEO team will make sure that customer journey from paid or organic traffic to your dental practice visit will take the shortest route.
On demand we will monitor visitors traffic and actions that are taken on a website to make sure that leads are driven to you marketing funnel.
Dental social media
Dental social media includes building a website and using social media platforms to promote your dental practice. Dental web designers work with social media marketing specialists to help promote your dental practice online.
Social media platforms such as Facebook, Twitter, and Instagram can be used to promote your dental practice. Review widgets can be used to establish social proof for your dental practice. Dental practices can use traditional marketing methods such as email marketing and traditional advertising to promote their dental services.
Dental content marketing
Dental content marketing is the process of creating and distributing dental content to attract, engage, and retain patients. Dental content marketing services can help you:
Generate new patient appointments
Improve your ranking on search engines
Attract visitors from social media sites
Create videos that promote your dental practice
Improve your print design
Dental email marketing
Email marketing is a great way to connect with patients and promote your dental practice. You can use email marketing to:
Promote new services
Events
And more
Email marketing is a great way to connect with patients and build relationships. You can use email marketing to:
Send out important updates and announcements
Collect data from patients
Track the success of your dental campaign.
Dental lead generation
Dental lead generation is the process of attracting potential patients to your dental practice. A well-designed dental website will have forms that can connect you to your potential patients. The perspective and leadership of the team at Service Focus helps attract new customers and employees.
Dental pay-per-click
Dental pay-per-click marketing services help you reach more patients in need of your dental services. Our web specialists also include a dentist pay-per-click marketing campaign that will help you reach more patients in need of your dental services.
Dental reputation management
Dental reputation management is the process of monitoring and improving your dental practice's online presence. It can help you protect your reputation, engage current patients, and convert more website visitors into new patients.
Some of the ways that dental reputation management can help you improve your online presence include:
Creating innovative designs that reflect your practice's style
Converting more website visitors into new patients
Managing negative patient reviews
Monitoring your dental practice's online presence
Who we are
EASYSEO is specialized dental marketing company and considered one of the best dental web design agencies. We work in local and international healthcare industry for about 10 years. Experience and client feedback are the main drivers to satisfy marketing needs of small businesses and perform high quality work.
Request a quote
If you are looking for a dental website design company and want your new website to rank higher in Google, feel free to request a quote or ask any question related to custom website design or development process.
Need website design company? Get in touch
Click here