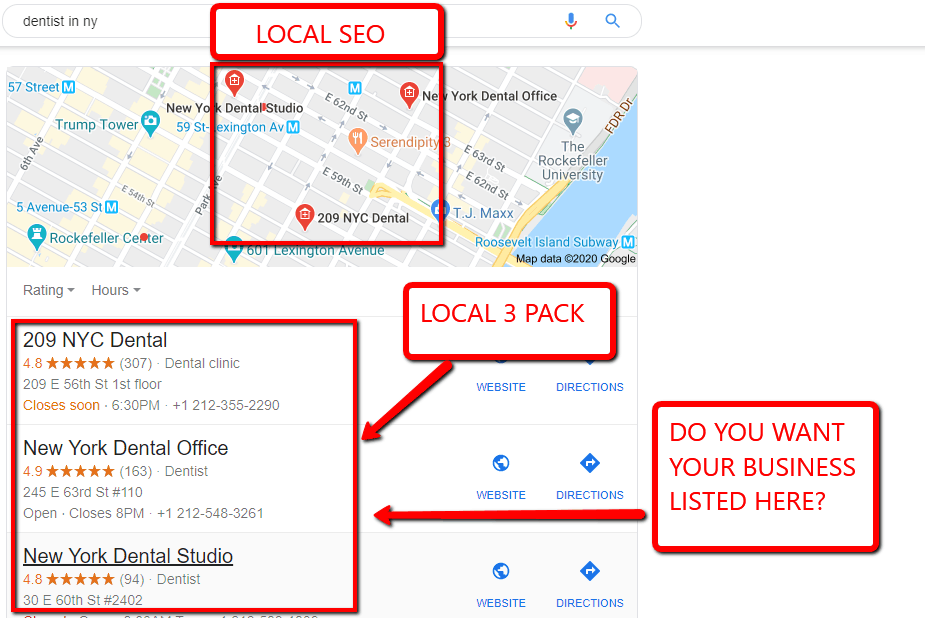 Unlock the Power of Local SEO with EASYSEO! Transform your business, outshine competitors, and reach local customers. Discover our tailored local SEO services today!
Local businesses that are optimized for Google map are getting more local clients.
If you want more business in your local area or want to be found on local pack of Google maps with a certain keyword + city or "keyword + area" feel free to reach out to us with your business name and area you serve.
What is local SEO?
Local SEO – is a method which increases your business exposure in a certain location (city, street, etc.). If you want to reach a target audience , our geographic optimization services will help your business to appear on "Google Maps" local pack.  This applies even if you don't have a website or any particular business presence online.
We can tell from experience that a number of businesses don't focus enough of effort for their Google location or don't have any sort of presence at all.
In a competitive market, this may lead to the loss of potential customers. As researches shows, more and more people are using their smartphones to find the information about services they need via various mobile apps, especially when looking for something location-wise.
So, why not use a perfect opportunity to boost the potential of your business by applying this type of method?
According to Google, almost 46% of searches are locally-based. Who knows, maybe you are the one that's nearest to the client, but unlike your competitors, you haven't optimized your business properly?
What can you expect? 6 benefits of Local SEO
Local market exposure – The main goal of Local SEO is to optimize your business to a specific location.
Higher search engine rankings – Getting to local 3 pack is the main objective of Google maps SEO optimization.
More calls from local clients – Local 3 pack gets more leads and calls for local businesses.  If prospects see that your business is right next to their home or workplace they are more likely to pay you a visit.
Increased sales – naturally, more arriving clients will mean a significant increase in sales.
A consistent flow of clients – eventually, if your services meet the clients expectations, you can expect a consistent stream of loyal clientele to your business.
Which business local SEO benefits the most?
Basically, if you're in a service business that people might be looking for with location mentioned that is a strong signal that you need Google SEO optimization services. The formula looks like this [service type] + [location] or [service type] + near me. If near me is the option Google will calculate your current location of best search results according to current algorithm.
In real life local service + location might sound like
accident lawyer in Atlanta
best dentist in NY
locksmith near me
thai massage near me
Let's say you are making unique and tasty food, would not you like to be seen in local pack when people are searching where to eat out via Google?
You don't even need a real website if you decide to go with local SEO. Google My Business account is enough to post relevant business information, photos from the property.
Local SEO map optimization works best for these types of businesses:
Food (restaurants, bars, nightclubs)
Residual (hotels, hostels, camping spots)
Beauty salons (massage salons, manicure salons, barber shops)
Jurists (lawyers, attorneys, etc.)
Construction and renovation companies
Car service centers
Transport companies
Businesses who only engage in offline sales
Will local SEO be beneficial for my business?
A quick check to determine whether or not Local SEO benefits you is to do a Google search using your main keywords + [location]. If the search results contain local 3 pack from Google Maps, local SEO services would be right investment for your business.
For example if you enter the query "restaurant in berlin", this immediately pops up.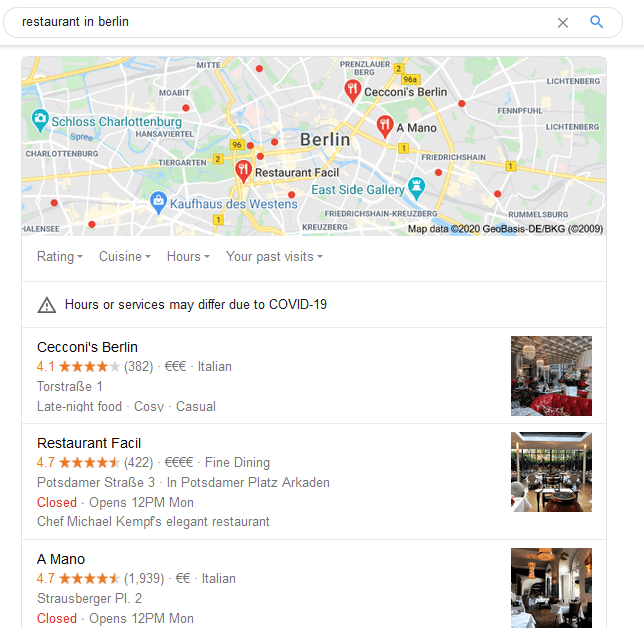 We can see that we have a short list of near by restaurants, which is often call local 3 pack. When Google maps optimization is done properly your restaurant would appear among TOP3 results given that your restaurant is in fact in Berlin.
What factors determine the rank of a business?
Local SEO results in  "Google" are shown based on 3 criteria: relevancy, distance and prominence. The system automatically determines which results is closest to the searchers' query. Even if you are the closest business, that does not necessarily mean that you'll be shown at the very top. "Google" determines which is best, based on the 3 factors mentioned earlier.
Relevancy
Relevancy determines which businesses are closest to searchers' query based on their provided services. The more information is provided about the company, the easier it is for "Google" to decided what's relevant and what's not.
Distance
This feature, of course, looks at the distance between the user and the business. If a person does not specify the range in which Google should look for something, the system automatically provides search results based on the users' GPS location and the information provided by a company.
Prominence
For determining prominence, "Google" looks at what is called a local rating system. Based on this system "Google" is trying to determine how well a business is known to the public.
Some business like trademarks, historical places, hotels may not necessarily have a huge online presence, but in general, are well known to the public. "Google" tries to determine what's prominent and what's not, based on the information that can be found about the place on the internet as a whole (links, articles, catalogues, etc.).
What local SEO services can you expect from us for your business?
Optimization for mobile devices. As research shows, almost 57% of searches are done through mobile and this number is expected to rise in the near by future. Naturally, a person more likely to contact and be interested in a business who has some sort of mobile presence.
Keyword analysis – we are capable of performing a thorough analysis of the most relevant keywords for your business.
Conduct a competion analysis  – It's not a secret that you won't be ranked the highest when you first add your business to map platforms. But with a thorough analysis of your competitors, this may be achieved after developing a better optimization strategy than others.
Add a business to map platforms (Google Maps, Bing Places. Apple Maps) – the most essential part of Local SEO. This includes in adding a business and its vital information.
Add working hours/adress/photos/phone number/categories/business name – if there's a necessity to add some vital information about a company or adjust incorrections, we may perform that as well.
Add a business branch – if you changed locations or opened up a branch office in another town, it is also needed to add more information to the platform.
Close/Delete a business from map platforms – If you are closing up and want to remove all online presence of a business, we can do that as well.
Add review/ratings section –  this factor is one of the most important one that people use to choose a location to go to. We'll take care of the technical stuff, all you need to do as a business owner is to be the best at what you do!
Why choose our SEO agency?
We have more than 8 years of experience in the field of SEO and can offer more than an average marketing agency. Local SEO is one our definite strengths.
Our goals – to guarantee that you reach the highest search engine positions in your location both on desktop and mobile devices.
Local SEO is a perfect way to increase your sales, with a few simple adjustments.
Lets get in touch

If you still can't decide whether this feature would be beneficial for you business, contact us here and we'll provide additional information on the topic.
Importance of Local SEO for Businesses
Local SEO is a critical digital marketing strategy for businesses looking to thrive in their specific geographic areas. With an increasing number of consumers relying on search engines to find local products and services, appearing prominently in local search results has become a necessity. Local SEO ensures that when potential customers search for products or services in a particular location, your business shows up as a relevant and trustworthy option. This not only helps in attracting more local leads but also builds credibility and trust among potential customers.
Local SEO is especially beneficial for brick-and-mortar businesses, service providers, and businesses that serve specific regions. By optimizing for local search, businesses can reach their target audience more effectively, increase foot traffic to physical locations, and ultimately boost sales. Moreover, with the rise of "near me" searches, local SEO has become even more crucial, as it allows businesses to capitalize on the growing trend of location-based searches made by users on mobile devices.
Local Keyword Research
Conducting thorough local keyword research is the foundation of any successful local SEO campaign. It involves identifying and targeting keywords that are highly relevant to the local audience and have the potential to drive qualified traffic to the business. At EASYSEO local keyword research goes beyond generic keywords and includes location-specific terms such as city names, neighborhoods, or landmarks, combined with relevant industry-related keywords.
To perform local keyword research effectively, at EASYSEO we use few keyword research tools that allow to find search volume data and competition level for specific location-based keywords. We also consider long-tail keywords, as they often have lower competition and can attract more targeted leads. By incorporating these localized keywords into website content, meta tags, and Google My Business listing, businesses can increase their visibility in local search results and attract potential customers looking for products or services in clients' area.
Local Link Building
Link building is a crucial element of SEO, and in the context of local SEO, building local citations and backlinks plays a pivotal role in boosting a business's prominence in local search results. Local citations are online mentions of a business's name, address, and phone number (NAP) on various local directories, websites, and social platforms. These citations not only provide valuable information to potential customers but also signal to search engines the legitimacy and relevance of a business in a specific location.
At EASYSEO we focus on earning quality backlinks from local websites, blogs, and authoritative directories in client's area. These backlinks act as endorsements for the business, enhancing online reputation and visibility. Local link building efforts can include collaborations with other local businesses, participating in community events, sponsoring local organizations, and offering expert insights on local publications. By incorporating an effective local link building strategy into overall local SEO efforts, we strengthen a business online presence and improve chances of ranking higher in local search results.
Tracking and Analytics for Local SEO
Tracking and analyzing the performance of a local SEO campaign are the keys to effectiveness and proper data-driven decisions for continuous improvement. We employ tools like Google Analytics, Google Search Console, Ahrefs, EASYSEO CRM and others to gather valuable insights into their local SEO efforts. Google Analytics provides data on website traffic, user behavior, and conversion rates, while Google Search Console offers information on search queries, impressions, and click-through rates for local search results.
Through these tools, we identify and share with a client which location-based keywords are driving the most traffic and conversions, understand user engagement on their website, and track the performance of their Google My Business listing. Armed with this data, businesses can refine their local SEO strategies, optimize underperforming pages, and focus on content and keywords that resonate with their local audience.
Local SEO for Mobile Users
As mobile usage continues to dominate internet traffic, businesses must ensure their local SEO strategy is mobile-friendly. A mobile-friendly website not only enhances the user experience for mobile users but also contributes to better search rankings, as search engines prioritize mobile-responsive sites. Local businesses should focus on optimizing their websites for mobile devices, ensuring that pages load quickly, and the content is easy to navigate on smaller screens.
Furthermore, voice search has emerged as a significant trend, and businesses must optimize their content for voice queries. Voice search often includes natural language and conversational queries, so incorporating long-tail, location-based keywords that align with how people speak is essential. Businesses can also adapt their FAQ sections to address common voice search queries, increasing the chances of their content being featured in voice search results.
By catering to mobile users and optimizing for voice search, local businesses can effectively capture the growing segment of users who rely on their smartphones to find products and services in their vicinity.
Local SEO is a powerful tool that can propel businesses to the top of local search results and drive targeted traffic to their physical locations or service areas. By understanding the importance of local SEO, conducting in-depth keyword research, implementing effective link building strategies, and optimizing for mobile users, businesses can gain a competitive edge in their local markets.
Regularly tracking and analyzing performance data will allow businesses to refine their local SEO efforts continually, ensuring they remain visible and relevant to their local audience. With the ever-increasing use of mobile devices and voice search, investing in local SEO has become an essential aspect of any comprehensive digital marketing strategy for businesses aiming to thrive in their local communities.
Boost your local business with EASYSEO's expert local SEO services! Dominate local search results, attract more customers, and increase sales. Get in touch today for success!