If you are providing certain services offline in a specific city and want to be seen in "Google Maps" reach out to us.
What is local SEO?
Local SEO – is a method which increases your business exposure in a certain location (city, street, etc.). If you want to reach a target audience of people, our georgraphic optimization services will help your business to be established on "Google Maps".  This applies even if you don't have a website or any particular business presence online.
We can tell from experience that a number of businesses don't focus enough of effort for their Google location or don't any sort of presence at all.
If you are new, in a competitive market, this may lead to the loss of potential customers. As research shows, more and more people use their apps to harvest information about the services through various mobile apps, especially when looking for something location-wise.
So, why not use a perfect opportunity to boost the potential of your business by applying this type of method?
According to Google, almost 46% of searches are locally-based. Who knows, maybe you are the one that's nearest to the client, but unlike your competitors, you haven't optimized your business properly?
Užsakyti vietinio SEO optimizaciją galite čia
Click here
What can you expect? 6 benefits of Local SEO
Local market exposure – The main goal of Local SEO is to optimize your business by niche, to a specific location.
Higher search engine rankings – No matter what type of business you are, it is beneficial to know that you will be seen higher up by those who search, since location results are provided higher by Google even above organic search results.
More calls from potential clients – If people will see your business phone, chances are, they will call on the spot.
More exposure from those near by. If a person sees that you are right next to their home or workplace they are more likely to pay you a visit.
Increased sales – naturally, more arriving clients will mean a significant increase in sales.
A consistent flow of clients – eventually, if your services meet the clients expectations, you can expect a consistent stream of loyal clientele to your business.
What companies does this feature fit best?
Local SEO optimization is a very simple thing – an assignment of your business to a certain location and type of service, which can help your business to be seen by a person who is searching.
Better exposure – a simple marketing strategy which benefits every business, no matter whether you have an online presence or not.
If your making some unique and tasty food, wouldn't it be better if people saw you by simply searching where to eat via Google? A website isn't needed in this case, only some vital information, photos from the location and a public rating feature.
This feature best applies for these types of businesses:
Food (restaurants, bars, nightclubs)
Residual (hotels, hostels, camping spots)
Beauty salons (massage salons, manicure salons, barber shops)
Jurists (lawyers, attorneys, etc.)
Constuction companies
Car service centers
Transport companies
Businesses who only engage in offline sales
Will this platform be beneficial for my business?
A quick check to determine whether or not Local SEO benefits you is to do a Google search using the main keywords that your business might be found with. If the query search gives you results from Google Maps, local SEO optimization would be an investment to consider for your business.
For example if you enter the query "food", this immediately pops up.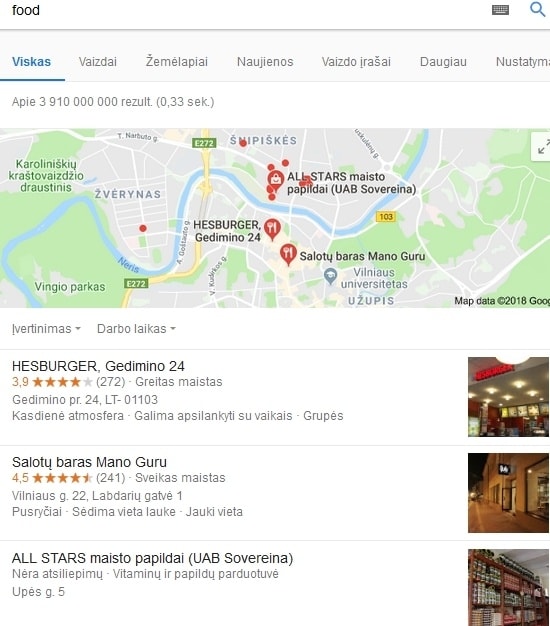 We can see that we have a short list of near by restaurants. Imagine if a person searches for one in your area, if you optimize, you might just pop up in the results.
What factors determine the rank of a business?
Local SEO results in  "Google" are shown based on 3 criteria: relevancy, distance and prominence. The system automatically determines which results is closest to the searchers' query. Even if you are the closest business, that does not necessarily mean that you'll be shown at the very top. "Google" determines which is best, based on the 3 factors mentioned earlier.
Relevancy
Relevancy determines which businesses are closest to searchers' query based on their provided services. The more information is provided about the company, the easier it is for "Google" to decided what's relevant and what's not.
Distance
This feature, of course, looks at the distance between the user and the business. If a person does not specify the range in which Google should look for something, the system automatically provides search results based on the users' GPS location and the information provided by a company.
Prominence
For determining prominence, "Google" looks at what is called a local rating system. Based on this system "Google" is trying to determine how well a business is known to the public.
Some business like trademarks, historical places, hotels may not necessarily have a huge online presence, but in general, are well known to the public. "Google" tries to determine what's prominent and what's not, based on the information that can be found about the place on the internet as a whole (links, articles, catalogues, etc.).
What local SEO services can you expect from us for your business?
Optimization for mobile devices. As research shows, almost 57% of searches are done through mobile and this number is expected to rise in the near by future. Naturally, a person more likely to contact and be interested in a business who has some sort of mobile presence.
Keyword analysis – we are capable of performing a thorough analysis of the most relevant keywords for your business.
Conduct a competion analysis  – It's not a secret that you won't be ranked the highest when you first add your business to map platforms. But with a thorough analysis of your competitors, this may be achieved after developing a better optimization strategy than others.
Add a business to map platforms (Google Maps, Bing Places. Apple Maps) – the most essential part of Local SEO. This includes in adding a business and its vital information.
Add working hours/adress/photos/phone number/categories/business name – if there's a necessity to add some vital information about a company or adjust incorrections, we may perform that as well.
Add a business branch – if you changed locations or opened up a branch office in another town, it is also needed to add more information to the platform.
Close/Delete a business from map platforms – If you are closing up and want to remove all online presence of a business, we can do that as well.
Add review/ratings section –  this factor is one of the most important one that people use to choose a location to go to. We'll take care of the technical stuff, all you need to do as a business owner is to be the best at what you do!
Why choose our SEO agency?
We have more than 8 years of experience in the field of SEO and can offer more than an average marketing agency. Local SEO is one our definite strengths.
Our goals – to guarantee that you reach the highest search engine positions in your location both on desktop and mobile devices.
Local SEO is a perfect way to increase your sales, with a few simple adjustments.
Lets get in touch

If you still can't decide whether this feature would be beneficial for you business, contact us here and we'll provide additional information on the topic.