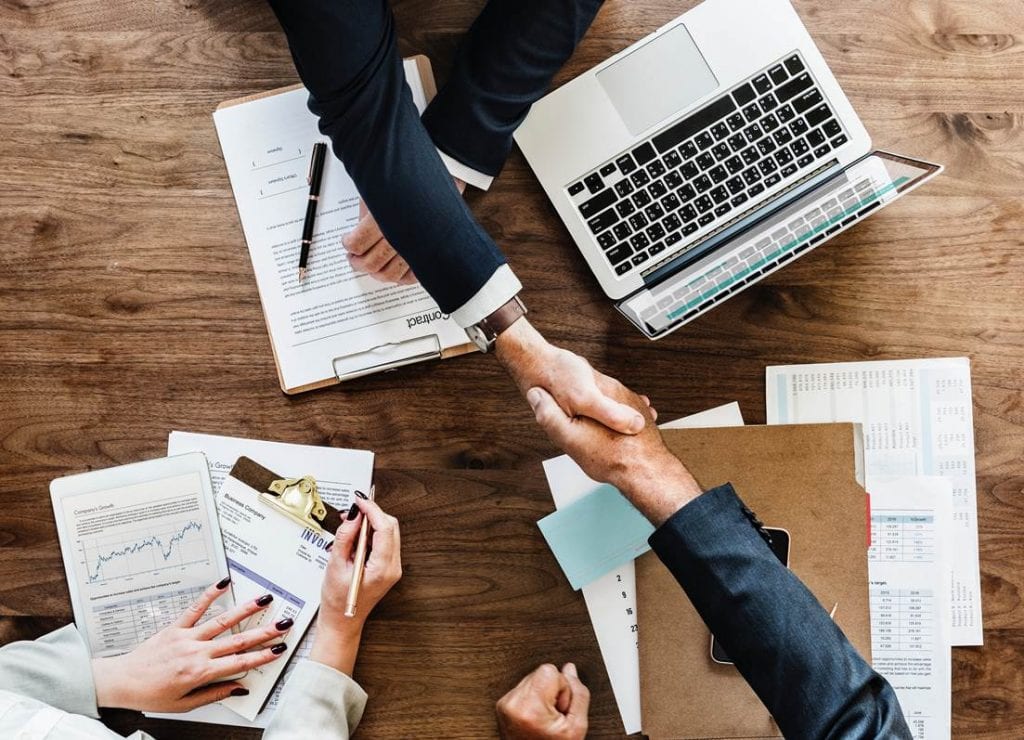 Creating a professional painting proposal is not as hard as it may look. A proper one will not only make your company look more professional but will set you apart from your competitors as well.
All you need to do is to keep it simple and to the point, that's what customers expect and want. A straight, to-the-point approach will provide all the necessary information and make your business seem more respectable.
Tip #1. Prepare the proposal before, not after
One of the biggest mistakes that is to deliver the proposal in an unprofessional way. Quite often, painting companies promise to send it later via e-mail after the meeting. This is bad practice, since clients expect for it to be delivered on the spot.
Do not make them wait by saying "We'll be sending you an estimated bid later". This leads to a sub par experience for the person and they will eventually lose interest and choose others. If you don't have the time to deliver an estimate right away, will you really have the time to take care of your job?
By not preparing yourself before, you leave customers in the dark, not answering their questions and clarifying their concerns.
What you need to do is to find some time to make the necessary measurements and write up an initial proposal that you will discuss with your customers upon your meeting later.
Tip #2. Compose a professional document
Also, you have to make sure that it's written in a detailed, professional way and provides the necessary customizations and options for the customer. You need to realize that people are paying thousands to get their houses painted.
A low-effort, verbal agreement on your part will not justify the money their spending.
If you try low-balling your customer instead, even worse. Your proposal will sound unconving and even if it did, we all now you wouldn't be making any money from it.
In order to win over the client's trust and have a better chance at getting a strong price for your services, you need to display a high level of professionalism and detail.
The painting proposal should include all information that is relevant to you and your client:
Basic information
The customer's information – their name, email, phone number, etc. This is not only essential to you right now and your job, but it may help you in the future with future marketing efforts.
Your company's information – everything that your customer may find useful – email address, phone number, office address, etc.
Job warranty information – this is essential since, people will want protection for the services that they purcase. In case your workers do a bad job at painting or fail to meet deadlines, this will give security to client that he may take action to receive a compensation of some sorts.
Liability insurance and workers' compensation – this is necessary to ensure a client that you take full responsibility for your painting job. What's more, you provide documentation that legitimizes compensation to your firm's employees.
Work-related details
Detailed house areas that are to be painted – write down every note possible about the areas needed to be painted. With this you ensure that both parties are guaranteed to do their end of the bargain. The client receives quality work, while your workers get paid.
Consideration of unique problem areas on the house – if a house has specific flaws that might require additional attention and extra work, be sure to note that as well. The client might be even surprised that you've considered these things as well. And did not just give a general synopsis of what's needed to be done.
Description of all the materials – indicating all the materials will help the client to see how much each item costs and how it makes up the overall price that you are offering. This includes type of paint used including type of caulk, primer, and paint
Notes unique to a customer's house – every house is different and may need specific work to be done. Write down questions about those areas that you are not sure how to handle and ask the client during your meeting. This will also show the client that you are interested in knowing more and what approach to take.
Contract-related details
Multiple options and prices to meet their needs – this will give you better position to bargain, since you will have a couple of options to present to the client. Since the prices are huge for this type of work, be sure to prepare and a lower priced variant, which may use lower quality materials, cover less ground etc. In other words, be flexible with presenting offers to your clientele.
Discounts available for taking action ASAP – this may sound like a cliche marketing trick, but discounts work. The price that their paying for your services equals the amount they might spent for a pretty decent vacation. Consider what you could lower, without giving up too much of the money you could make.
A right to cancel in a period of a few days – a simple method, which gives the client the right to cancel the contract if they reconsider and choose another option.
A signature and date line for them to sign on – the final touches complete the contract and make it a legitimate document in effect.
If all of this key information is being included, your client will know exactly what he's getting and what to expect. You will be on the same page as the customer in terms of what jobs are being done and what jobs are not.
Since everything is written and proposed in detail, it gives you more stable ground to command a higher price for your services.
Create a template for your future painting proposal, be detailed and specific and make important notes while talking during a meeting with your client.
Tip #3 Be direct, use careful phrasing and end on a high note
Last thing you need to know is that your language has to be direct. Talk with a client in a way as if you already have the job. Below you will find a list of useful phrases that you may use as guidelines when having a conversation with a client.
Useful phrases to note, when going over the proposal details
"So here's your information is everything correct?" – this usually a good phrase to start your meeting off after you've the contract for the client to review. It helps you out to start a conversation by asking a simple question and ensures that their information is correct.
"These are the materials we are planning to use, like we talked about" – this is the stage where you go over the products and materials for your job. Include a number of options available based on your contract. Let's say materials will most likely results in a higher overall price for the job.
So, you may offer the client something this – cutting down on materials, but having a cheaper overall cost. Of course, this may mean that the quality of the paint job will suffer, so you have to inform the client about this as well.
"Here are all the areas to be painted, do these look good?" – here you present what you've accumulated about the house and its areas. Consider asking what rooms they want to start with or exterior areas.
"Before we look at the options, is everything that we talked about right here?"- your continuing the conversation by asking whether you got all the details right in your proposal. You show care for the clients' needs and also indicate that the offer is flexible and may be adjusted according to what they want.
"Here are some extra notes that I've collected on the job as well…" – remember the stage where you collected individual details about the house? Information about areas that might need specific attention? Well, now's the time to show off what you got!
Questions and phrases to avoid
We mentioned that is necessary to be careful with the things that you say. Do not ask questions that you do not want to face and answer.
"So, what do you think?" – This will probably lead to answer like "well, that's quite a lot of money"; "that seems like a high price" and so on. Since the client is in a stage of consideration, you don't want rub the fact that they will be paying a huge sum of money for the paint job into their faces.
Be considerate or you'll end up hearing a number of complaints and dissatisfactions, which will make clients think twice about your offer.
"How does the price look?" – Going into the same direction. You don't want your clients to doubt the price even more. It is what is. If you want bargain a decent deal for both you and your client, that's what your additional options are for.
Close the deal well
Once you've reviewed the entire contract, you need to present the options you've prepared. After reviewing the options, this is when you need to close.
A few examples of a good close:
"So, which option do you think is best for you?" – You're not asking whether or not they like the price. You're offering them a choice between the options you offered.
"Ok, now all I need is a deposit and your signature right here, then we can get you in our schedule." – again, you're continuing with the persuasion by slowly offering them your deal. What's more, you show them you're ready to start work immediately.
"So in which direction should we go?" – a good, but weaker phrase to use, as it may seem that you're asking the client whether their interested at all or not. Time it wrong, and you may just lose a potential client.
Once you say the closing phrase, do not talk, just wait, make the client speak next.
In summary
In this article we've discussed the basic tips needed to prepare a complete, professional painting proposal. By being detailed, specific and doing a good job when presenting the details of the document to your client you are bound to succeed.