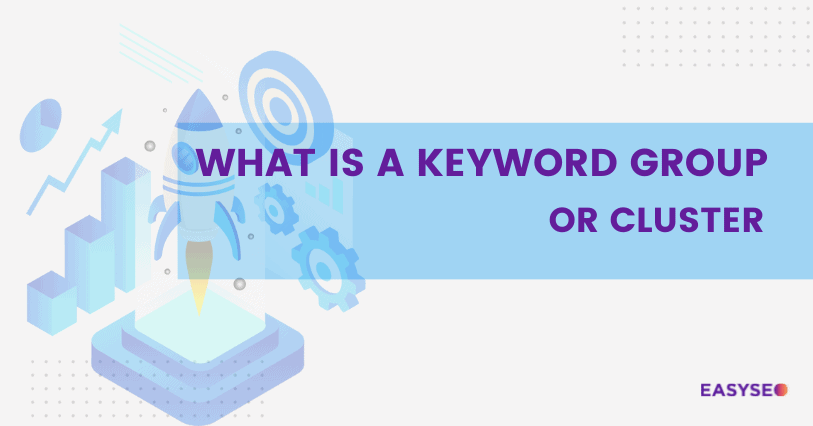 A keyword group (cluster) is a collection of closely related keywords that are used to target specific topics or themes on a website.
For example, if you have two similar search queries like "keto recepies" and "easy keto recepies" you would need to decide whether to use them on the same page or separate pages of your site.
Similarly, if you have keywords like "taxi in Berlin" and "taxi in New York," you would need to determine whether to create separate pages or include them on the same page.
To make this decision, you would need to analyze the search engine results page (SERP) for that particular search query and your competitors to see if the pages that rank for these keywords are similar or identical.
All answers are in SERP
Lets take a closer look at SERP for search queries "taxi in New York" and "taxi in Berlin" . We will see that first page of Google results is unique for both queries. None of the domains is the same, none of the websites for query "taxi in New York" appears in search results for "taxi in Berlin".
That means that if you want your website to be ranked for both queries you need to have separate dedicated pages for each keyword group on your website.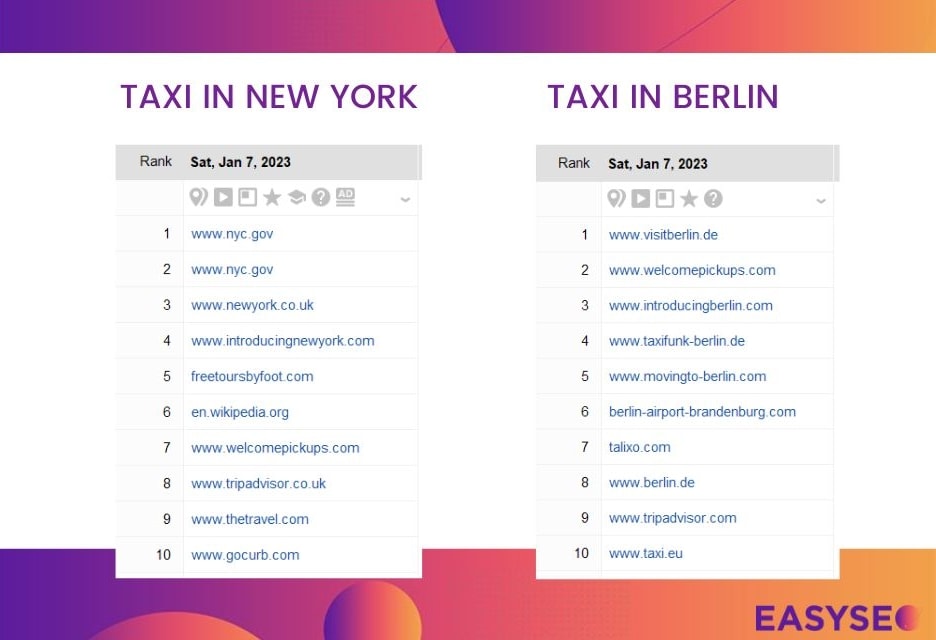 However, if we take a look at other example we have mentioned earlier, for search queries like "keto recepies" and "easy keto recepies", we will see different situation.
70% of the websites for search queries like "keto recepies" and "easy keto recepies" are the same. Moreover, if we were to click each result we would see that not only domains are the same, but the pages URL are also the same. That is a sign that these keywords fall into one keyword group and you need to have one page dedicated for these queries on your website.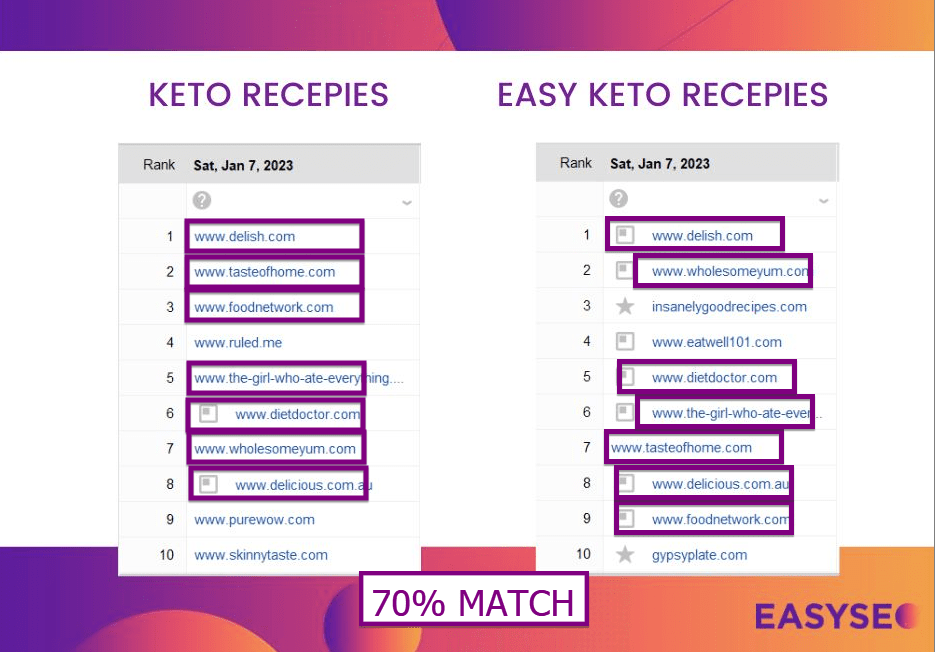 Grouping examples
Let's take a look at extended keyword groups and see how they look in real life.
Keyword group – French Doors
high security french doors
high security french doors uk
security french doors
most secure french doors
slimline french doors
slim french doors
secure french doors
high security double doors
french security door
security double doors
french door security screens
thermal french doors
french doors with security screens
security door double door
house front double doors
french doors
french door
french door security
external french doors
french doors uk
cheap french doors
are french doors secure
doors french
french security doors
steel french doors
lockable french doors
glass french doors
french front doors
All variations of a keyword "french doors" are semantically related and belong to the same keyword group. If you were to analyze other query e.g. "victorian doors" you' would see similar amount of semantically related keyword. Therefore, if you are a reseller of that type of doors, you'd have to build two separate pages with unique URLs on your website for each keyword group.
Structure of a website it might look like this:
mywebsite.com/french-doors/
mywebsite.com/victorian-doors/
How many keyword groups per website
There is no set limit on the number of keyword groups that can be on a website. The number of keyword groups will depend on the size and scope of the website, as well as the specific goals and target audience of the business or organization.
For example, a small website with a narrow focus might only have a few keyword groups, while a large e-commerce site with a wide range of products and services might have many more.
Services website
A website focused on local services might include 10-20 keyword groups. When a website has a total of up to 100 keyword groups, it is common for SEO optimization to be done manually for each group.
E-commerce website
An e-commerce website might have a large number of keyword groups, potentially ranging from a few hundred to millions. It would be impractical to manually optimize such a large number of keyword groups, so it is common for the most important clusters (typically 100-200) to be optimized manually while the rest are done automatically.
Benefits of clustering
There are several benefits to using the keyword grouping approach, including:
Improved search engine relevance: By organizing keywords into groups, you can help Google understand the context and relevancy of your website's content.
Cost savings for PPC campaigns: Compact ad groups can improve click-through rate (CTR) and lead to higher Quality Scores, which can save you money on paid traffic campaigns.
Enhanced copywriting and content quality: Organizing keywords into groups can help improve the quality of your website's content, both for human visitors and search engines.
Avoid keyword cannibalization: Keyword grouping can help you avoid using multiple similar keywords on the same page, which can dilute the effectiveness of your SEO efforts.
Structured site and SEO efforts: Keyword grouping can help you organize your website and set the keywords you're targeting in your SEO efforts.
The goal of clustering
Ultimately, the goal of keyword grouping is to organize and categorize keywords in a way that helps search engines understand the context and relevance of a website's content, so that it can be more easily discovered by the right audience. As long as a website's keyword groups are well-organized and accurately reflect the content and themes of the site, there is no limit to the number that can be used.
Practical usage of keywords
Keyword grouping is usually performed during keyword research or keyword audit process. After identifying main clusters and actually grouping the keywords an SEO specialist need to identify search volume for each keyword in a group to set priorities. The most important variations of a keyword with the highest search volume must be mentioned in page Meta title. Other important variations have to be used in H tags (headings) and spread naturally on a dedicated page.
Tools for keyword grouping
If you need to analyze multiple keywords, this process can be time-consuming when done manually. Fortunately, there are popular SEO tools like Ahrefs, EASY SEO CRM, Semrush, and SEranking that can help you save time by grouping keywords for you.