Want to learn what SEO is and how it works in 2020? Read until the end and you will find all the answers here.

Full website optimization guide for 2020
SEO (Search Engine Optimization) – is a process during which a website is optimized to be properly displayed on a search engine based on what people are looking for, in other words, the keywords that they use.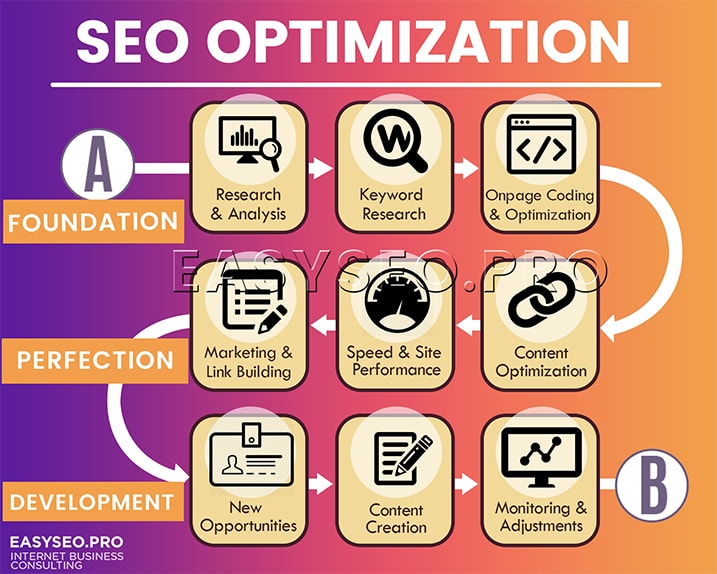 Why is it necessary to optimize a website?
Over 2 million blog posts are being published daily. (Source: Neil Patel). That means, new content appears on the web everyday, which seeks to get the attention of people searching. Websites which are not optimized have very little chance to get in to the top 10 and catch the attention of an average internet surfer in this constant flow of new information.
As research shows, the TOP 5 Google results receive more than 70 percent of all the clicks. For this reason, many business owners want that their website would be seen as high as possible based on the queries from people who search.
SEO or PPC (Google Ads)
PPC (Pay per click) – is when a website owner pays for every click he receives on his website link, no matter whether he received benefit from that click or not.
By these means, Google Ads (formerly AdWords) advertisiments work.  The main benefit of such an ad type is that their campaign are launched easy and fast. That means, that visitor who are looking for what you specifically offer, will appear on the site.
In 2017 Google changed the way it displays (PPC) to 4 positions abouve the organic search results. Paid ads are displayed with a specific symbol.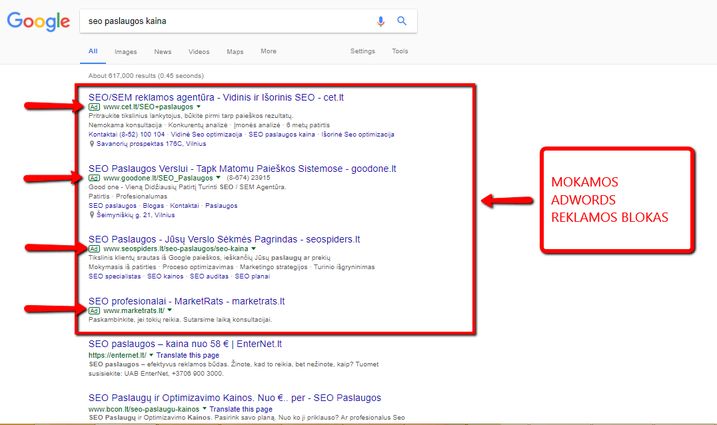 Our clients often ask about the exact price for a click in the Google Ads network. It is impossible to answer this specifically, since AdWords is an auction in which the number of participant as well as the their bids for specific queries can change within a moments notice.
An experienced, however, could make a pretty specific approximation about a click cost in a certain niche and look at what Google's calculations indicate.
It is very important when buying an advertisement from Google Ads, to make sure that it reaches a specific audience. We often encounter situation where our clients' Ads budget is being used ineffectively. The consequence of this? A 20 to 50 percent  of budget waste on the regular.
So, when hiring a Google Ads specialist, or when you develop the campaigns yourself, it is good to know the methods by which you can optimize your budget for better use. One such thing is to know your negative keywords (the keywords that you don't want to be found by). This will make sure that you save your money on the keywords that you are actually interested in.
Organic search results
Organic search results are the casually displayed search results in Google. In a way it acts as a free method of advertising yourself on the search engine since your website is naturally recognized as relevant to certain queries and you do not need to pay for anything to be seen at the top.
Organic search results in comparison to paid ads are displayed like this: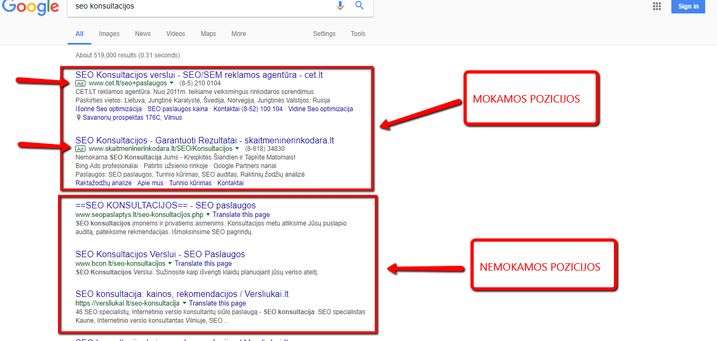 A websites appearance in the Top 10 of the organic search results for the most popular user queries is the ultimate goal of SEO. Such results are seen after a website is properly optimized, has and produces quality content on the regular, and is in general, user-friendly.
How Google works

A representative of Google, Matthew Cutts, describes the search engine like this:
The Google bot visits an internet website, scans their content and archives their information on its servers. When a user types in a query and searches for something, the engine then displays the most relevant search results in accordance to that query.
In the video below, Matthew speaks on the topic more in-depth.
When scanning a website, the Google crawler looks at more than 200 website parameters, by them which he determines whether a site is properly optimized and assign a certain place for it in the search results. The job of an SEO specialist is to consider all of these factors and to make sure that the website he's working on is ranked higher than those of the competitors.
What does Google really want?
As state by representatives from the company on a number of occasions, the goal of the search engine is to provide the best answer for the searcher's query. That means that Google wants the user to be able to find all the answers to his questions when visiting a website.
If a user opens a website and immediately or after a short while, leaves it, it is a signal for Google, that the content of the website may not be relevant or he did not find what he was looking for. Such a website is not worthy of having a top position on the search engine.
By understanding the principle of search engines, every website owner or administrator can critically evaluate his website and its content. If in your opinion, the website does not meet the conditions mentioned beforehand, there is a huge chance that its visitors as well as search engine robots see's those flaws as well.
What companies can benefit from SEO the most?
How can you know whether or not your business needs SEO? The answer is simple. If your products or services are being searched for on the internet, website optimization will definitely be useful for your business.
Of course, if your market is mostly non-internet based, there is a huge chance that your SEO spending will not pay off. Before ordering SEO services from a specialist, we highly recommend conducting a keyword research based on the topic of your website.

SEO Onpage vs OffPage
The process of SEO optimization for a website can be divided in to two parts: external optimization (Off page) and internal optimization (Onpage).
Internal (Onpage) SEO consists of two major parts
1. Technical optimization– the optimization of a websites' code based on the latest SEO standards and removal of errors.
Aspects of technically correct website:
Orderly code
adaptation for mobile devices
correct meta data and other tag usage
Technical optimization is the first step towards making increasing the popularity of a website. Below you will see a few of the most common technical errors founds on websites.
HTML and technical errors:
Meta data duplicates
404 ir 500 errors
Incorrect usage of H tag's
Duplicate content
Slow site loading speed
No use of file minification
In order to determine the technical condition of a website, SEO specialists use free and paid tools. One of most popular free tools, suitable to use for those without any technical background is Google's own Page Speed Test. This tool does not required programming experience or knowledge ant its simplicity makes it one of the best one's to take the first step with.
The usage of the program is simple: if your result is in green – your site has no technical errors, if its yellow or red – minor or major errors exist and need to be addressed immediately in order to not hurt your business in the long run.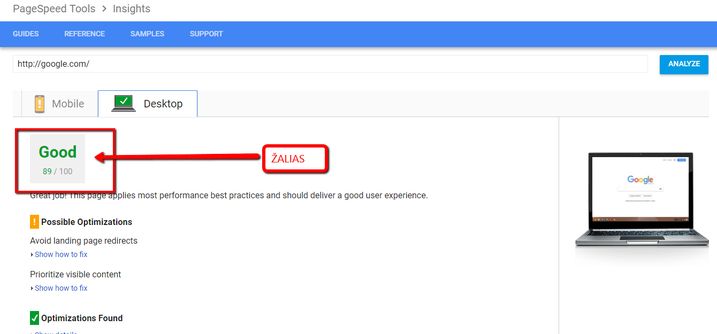 However, since the tools is quite simple, it cannot grasp every technical aspect of a website. For example, the tools does not take into consideration Meta tags and the optimization state of a server. Other tools are used to check these factors and most of the time they are paid, namely Semrush.com and Website auditor.
2. Content optimization – during this stage the focus is to ensure that the quality of the content found on the website would increase significantly. Good content is welcomed by search engines and likewise increases the experience of a website visitor. In other words, visitors to a website find the information that they are looking for, which results in a positive signal for Google as well.
Internal (On Page) SEO optimization is everything found within your website and your website's server. The main factors which influence SEO ranking are:
Orderly code (without errors)
Unique meta data (meta tags)
Unique content
Fast loading speed
Adaptation for mobile devices
User experience (UX)
Off page (external) SEO
External website optimization (Off page ) focuses on increasing the reputation and authority of a website. In other words, this process involves various SEO work outside the website. External optimization is conducted after internal optimization is managed.
Main Off page factors that affect ranking:
Links to a page
Social signals
Link quality and visitor streams
The website's authority ratings depend on external factors. Google uses a system called PR (Page rank) and assign a number from 0 to 10, which of course, means 10 is the highest rating. Sites which have the highest Page rank are Google, YouTube and Facebook. However, Google PR data is no longer available for public access, so SEOs have to rely on alternatives to identify whether their website has SEO authority or not.
One of the most popular sites that help to evaluate the authority of a page is Moz.com. Its tools allow to identify a website's DA (Domain Authority) and PA (Page Authority), where 100 is the highest rating.  You can use their Link Explorer tools to explore your website's state.
Note: A free account registration is needed to use the tool.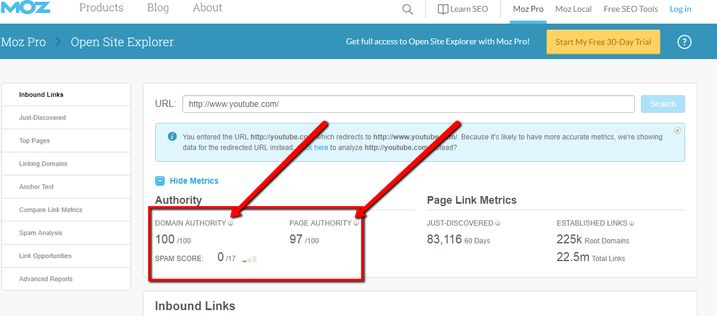 Another valuable tool for page authority evaluation is the usage of metrics such as TF (Trust Flow) and CF (Citation Flow). Courtesy of Majestic, this tool is also free. TF ir CF are also measured from 0 to 100, with 100 being the highest rating. If you would check the ratings of YouTube.com, you will see that their TF is 100 and CF is 97. This is means that the page is of the highest authority.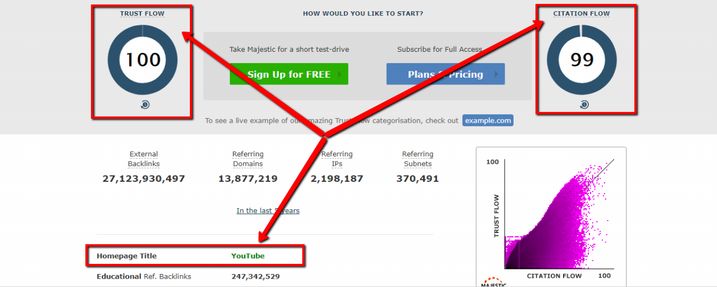 Ahrefs.com is one of the best paid tools used by SEO specialists, to check how a website earns its reputation and helps evaluate its link quality.
How domain authority grows
What influences domain authority? Inbound links and their reputation are one of the main factors that influence domain authority. The more high quality links you have on the site, be it based on DA, PA, CF or TF ratings, the better. Link reputation (link juice) is transmitted through links, over a period of time. It usual takes a few months for a link to influence the authority of a website page.
Links
As we mentioned before, the quality and quantity of inbound links remains one the key factors towards better website rankings on Google. As research done by Ahrefs indicates, the UR rating  is the most important out of all of them.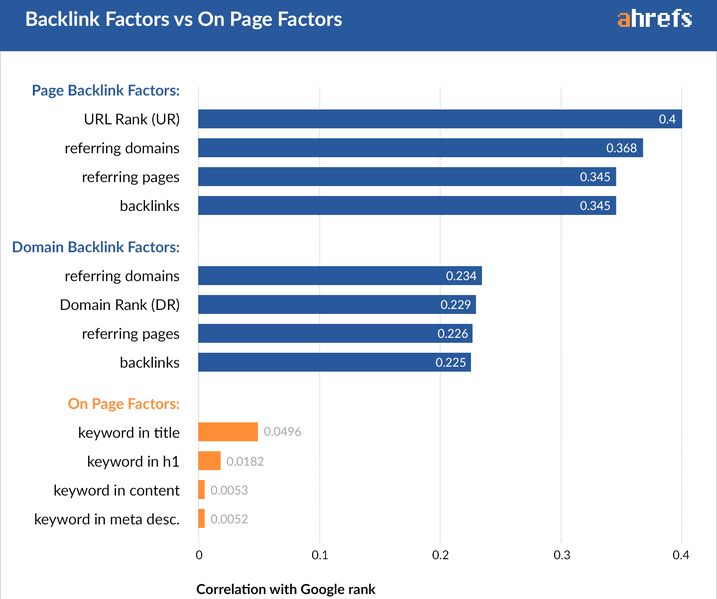 One of the key mistakes usually made by inexperienced SEO specialists is the attempt to acquire the maximum amount of links in a very short period of time for his website, without consideration that its competitors aquire them at a much slower pace.
This phenomenon is called "link stuffing" which almost always results with a filter from Google. If the search engine believes that the links on a website are growing at an unnatural pace,  it will penalize the website. Google has a very strict policy against buying/selling links, link farms (websites created solely for the purpose for being a link) and low quality links in general.
So it is important to be patient and use legal methods of website optimization.
Keyword anchors
We highly recommend calculating at what speeds you should acquire new links to a website by studying the TOP 10 of your competition using Afrefs.com tools. One more important factor for website rating is the structure of and phrasing of anchors.
An Anchor is a term used by SEO specialists which means the text inside the link.
The latest algorithms from Google limit the amount of commercial anchors to be used by websites, quite strictly.  If abused, once again, your website might be penalized with a drop in ratings. That is why before developing a long term link acquisition plan an SEO specialist must study the anchor structure and the links in general found in the top 10 of the desired query. Niche and theme also influences the way an achor is used, so a focus on these aspects is necessary as well.
What do SEO agencies do?
A SEO specialist's job is to fix a website in a way that would be appreciated by both the search engines and the clients. That includes improving its technical aspects, external factors and content.
Website optimization is a process which requires analysis, testing, monitoring and application of changes regularly. If a website was optimized for search engines correctly, positive results will be seen in a span of a few months.
How much time does it take to reach the top of Google results? Read more here.
What can an SEO specialist do?
Perform an internal website audit
Perform an external website audit
Identify problems within a site
Fix SEO gaps on the website
Improve a website's rankings in organic search results
Increase the number of visitor from organic search results
What an SEO specialist cannot do?
Improve your website's rankings overnight
Be responsible for your sale numbers (offline or online)
Be responsible for your conversion metrics
SEO methods
Black hat SEO methods – a guaranteed penalty from search engines
Disallowed methods to optimized a website are in general called "black hat" methods. For the use of these methods, a website can receive an automatic or manual filter from search engines. In recent years, Google updated its algorithm many times in order to make SEO competition more fair, and that is why a number of websites were heavily penalized for the use of old SEO methods.
Manual penalties are given to website from Google employees responsible for such matters (assesors). Usually, the site's owner is informed about the punishment through the webmaster's panel.
Black hat SEO method examples:
Duplicate content
Invisible text or links
Links from link farms
Links from unrelated websites
Automatic link publishing
Re-optimization of commercial anchors

White hat SEO – officially approved and encouraged methods
Website optimization methods specified and encouraged by Google are called "white hat" methods.  The use of such methods guarantees that a website will not receive any penalties from search engine, though it is often the longest way for a site towards the top of search results.
White hat SEO methods examples:
Original content
Content relevant to the topic of the website
Content made for people, not search engine bots
Links from topically relevant websites
Orderly internal optimization
Social signals
Grey hat – allowed but discouraged methods
Grey methods are those optimization methods that are not disallowed by search engines, but their use may raise suspicion. Often, they boost the website upwards quite faster than "white hat" methods, but their overuse may cause harm in the long run.
The official Google instructions for optimization methods can be seen here.
SEO for E-shops
For e-shops, the same internal and external optimzation rules apply as for regular websites, however a few important factors are needed to be taken into consideration.
Particularly, the proper organization of the e-shop should given extra attention. It should be structured based on keyword analysis and semantics.
One of the biggest problems for e-shops is their incorrect usage of their index budget a.k.a crawl budget. That is why it is important to observe how many pages were indexed by Google and how many were not.
Also, look at how many internal pages a shop has in general and how many were indexed by Google's bot. If a number of your site's pages are not indexed, it could mean that you are misusing your crawl budget.
E.g: your e-shop has 1000 internal pages, while for one reason or another, determined that your website can have a 500 page crawl budget.
In this case, it is clear that Google's bot only visited half of your website's pages and it did not visit others. That means that half of your website cannot be found on Google.
What can you do in this case?
At first, website optimization may look like a very complicated process. We can assure you – that is not true. If you have the time and the interest, most of these tasks can be performed yourself.
Remember, do not forget to research your niche before applying any major  changes to your website, that is: keyword analysis, competitor analysis and avoid the mistakes that can lead to penalties and a drop in rankings.
Follow us on Facebook for more useful, SEO-related information and regularly published optimization tips.
Interested in more SEO tips? Click here.
Want personal advice for your business, order a free consultation today.