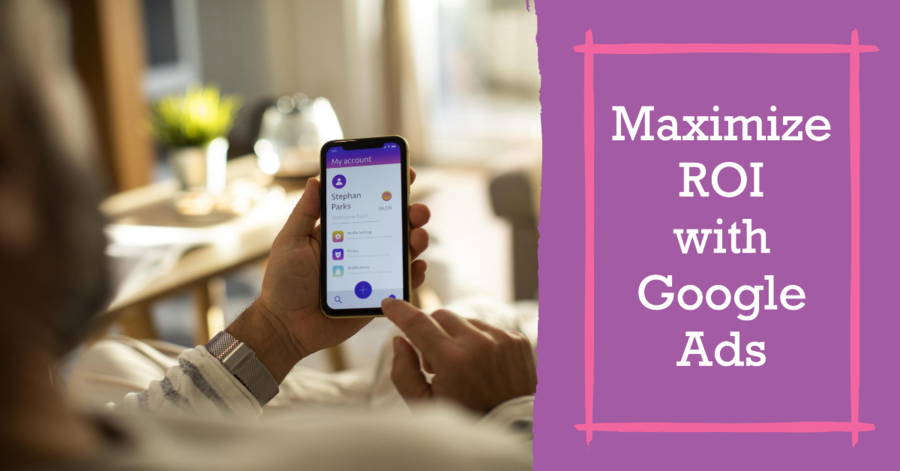 Welcome to EASYSEO, where our expertise in Google Ads Management Services transforms your digital advertising efforts into tangible business success. Our team of certified specialists is dedicated to leveraging the power of Google Ads to elevate your brand's online presence and drive meaningful growth.
Highlights of EASYSEO PPC Services
Certified Google Ads Expertise: Our team's deep knowledge ensures your campaigns are managed by professionals adept in the latest Google Ads strategies and tools.
Tailored Campaign Strategies: We customize our Google Ads Management Services to align perfectly with your unique business goals, maximizing ROI and driving targeted traffic.
Data-Driven Optimization: At EASYSEO, decisions are backed by data, ensuring continuous refinement of your campaigns for peak performance and maximum impact.
EASYSEO isn't just about managing ads; we're about creating a partnership that propels your business forward. Reach out to us and discover how our tailored approach can make a difference for your business.
What truly sets EASYSEO apart is our commitment to personalized service and results-driven strategies. Recognizing that each client's needs are unique, we tailor our Google Ads Management Services to fit the specific contours of your business, ensuring that every campaign we undertake is as unique as the business it represents.
This bespoke approach, coupled with our unwavering dedication to maximizing your return on investment, positions EASYSEO not just as a service provider, but as a strategic partner in your business's growth and success.
Google Ads Management packages
| Feature | Standard Package | Premium Package | Hybrid Model | Performance-Based Plan |
| --- | --- | --- | --- | --- |
| Price Range | $500 – $1,500/mo | $1,500 – $3,000/mo | $300 – $700/mo base fee + 10-15% of Ad Spend | Custom Quote |
| Initial Consultation and Account Setup | ✔ | ✔ | ✔ | ✔ |
| Keyword Research | Basic | Advanced | Based on Ad Spend | Customized |
| Campaign Strategy | Basic | In-depth | Flexible, based on Ad Spend | Tailored to Performance Goals |
| Number of Campaigns Managed | Up to 3 | Unlimited | Flexible, based on Ad Spend | Customized |
| Ad Copywriting and Design | Basic | Enhanced with A/B Testing | Standard | Advanced, Tailored |
| Performance Reporting | Monthly | Bi-weekly, In-depth | Bi-monthly | Regular, Advanced Analytics |
| Customer Support | Basic (Email and Phone) | Dedicated Account Manager, Priority Support | Standard | Direct Access to Senior Specialist |
| Conversion Tracking and Optimization | – | ✔ | – | ✔ |
| Performance Tracking and ROI Analysis | – | ✔ | ✔ | ✔ |
| Regular Strategy Consultations | – | – | Bi-monthly | As Needed |
| Additional Customizable Features | – | – | – | ✔ |
| Additional Services Available | – | – | – | ✔ |
| Discounts for Long-Term or High Spend | – | – | – | – |
| Compliance with Google Ads Best Practices | ✔ | ✔ | ✔ | ✔ |
Additional Notes:
The Standard Package is ideal for small to medium-sized businesses or those new to Google Ads.
The Premium Package offers comprehensive management and is best suited for businesses with larger budgets and advanced advertising needs.
The Hybrid Model combines a base fee with a percentage of ad spend, offering flexibility for businesses that prefer a scalable approach.
The Performance-Based Plan is fully customizable and ideal for clients with specific performance targets.
All plans are designed to cater to a range of needs, ensuring clients receive a package that best fits their Google Ads goals and budget. Additional services such as landing page optimization, advanced analytics, and market research are available for an extra fee across all packages
Example Package Pricing Breakdown
Total Monthly Cost: $500 – $2,500
EASYSEO Management Fee:
This fee covers the cost of services provided by EASYSEO, including campaign setup, strategy development, ad creation, and monthly reporting.
Range: $500 – $1,000 per month.
The exact fee within this range depends on the complexity and scale of the campaign.
Google Ads Spend:
This is the budget allocated for running ads on Google. It is paid directly to Google and not to EASYSEO.
Range: $1 – $500 per month.
The client can decide the Google Ads budget based on their marketing objectives and overall budget. EASYSEO will manage the campaigns within this allocated budget.
It's important to note that a higher ad spend often leads to more significant results, but EASYSEO will work to maximize ROI within the chosen budget.
Example Scenarios:
Low-Intensity Campaign:
EASYSEO Management Fee: $500
Google Ads Spend: $1 – $500
Total Monthly Cost: $501 – $1000
Moderate-Intensity Campaign:
EASYSEO Management Fee: $750
Google Ads Spend: $250 – $750
Total Monthly Cost: $1,000 – $1,500
Full-Service Campaign:
EASYSEO Management Fee: $1,000
Google Ads Spend: $1500
Total Monthly Cost: $2,500
Key Points:
The total monthly cost of the Standard Package varies based on the combination of the EASYSEO management fee and the Google Ads spend.
The EASYSEO management fee is for the services provided by the agency and is the only part of the cost that goes to EASYSEO.
The Google Ads spend is the budget for running the ads and is paid directly to Google. This is not a part of EASYSEO's revenue; it is a separate cost incurred for the ads themselves.
Clients can choose their Google Ads spend based on their budget and objectives, and EASYSEO will optimize the campaigns within this budget.
This breakdown is designed to offer transparency and flexibility, allowing clients to understand exactly what they are paying for and to choose a budget that aligns with their marketing goals and financial constraints.
Packages Description
Standard Package
Ideal For: Small to medium-sized businesses, startups, or those new to Google Ads.
Examples:
Local Retail Stores: Such as a family-owned boutique or a local bookstore looking to increase foot traffic and online visibility.
Small Service Providers: Like local plumbers, electricians, or small law firms seeking more clients in their area.
Startups: Newly established tech companies or small online businesses aiming to build brand awareness and attract their initial customer base.
Premium Package
Ideal For: Businesses with larger budgets, established market presence, and a need for a more sophisticated Google Ads approach.
Examples:
E-commerce Websites: Large online retailers with a wide range of products targeting a broad audience.
Tech Companies: Software or tech service providers needing advanced campaigns for various products or services.
Healthcare Clinics and Hospitals: Medical institutions requiring a comprehensive approach for multiple services or locations.
Hybrid Model
Ideal For: Businesses seeking a scalable and flexible approach to Google Ads, typically with fluctuating or seasonal ad spends.
Examples:
Seasonal Businesses: Like a holiday resort or a tax consultancy firm, which experiences peak seasons.
Growth-Stage Startups: Companies experiencing rapid growth and requiring a scalable solution to match their changing needs.
Event-Based Businesses: Such as conference organizers or wedding planners who need to ramp up advertising around specific events.
Performance-Based Plan
Ideal For: Clients with specific performance targets, looking for a highly tailored approach to Google Ads management.
Examples:
High-Ticket Service Providers: Like luxury real estate agencies or high-end car dealerships, focusing on quality leads rather than volume.
Businesses with Direct Response Goals: Such as online courses or subscription services aiming for immediate conversions or sign-ups.
Companies with Specific Campaign Goals: For instance, a software company launching a new product and aiming for a targeted number of downloads or trials.
Why Choose EASYSEO for Google Ads Management?
Certified Expertise in Google Ads
At EASYSEO, our prowess in Google Ads management is backed by a team of certified professionals. This certification is not just a badge of honor; it signifies a deep, nuanced understanding of Google Ads. Our experts stay abreast of the latest trends and changes in the platform, ensuring that your campaigns benefit from the most current and effective strategies. With EASYSEO, you're not just getting a service provider; you're partnering with a team that has proven expertise and a track record of success in navigating the complexities of Google Ads.
Tailored, Data-Driven Approach
In the world of digital advertising, a one-size-fits-all strategy simply doesn't cut it. That's why at EASYSEO, we believe in a bespoke approach to Google Ads management. We start by diving deep into your business, understanding your market, competitors, and audience. This knowledge, combined with our data-driven insights, allows us to craft campaigns that are not only tailored to your specific needs but also continually optimized based on real-time data. From keyword selection to bid management, every decision is informed by data, ensuring that your campaigns are as efficient as they are effective.
Creative and Engaging Ad Content Creation
The core of any successful Google Ads campaign lies in its ability to engage and convert. At EASYSEO, we don't just manage campaigns; we bring them to life with creative and compelling ad content. Our team of creative professionals excels in crafting messages that resonate with your target audience. Whether it's eye-catching visuals or persuasive copywriting, our ads are designed to capture attention and drive action. By combining our creative talents with our marketing acumen, we ensure that your ads not only reach your audience but also inspire them to take the desired action.
Choosing EASYSEO for your Google Ads management, you're selecting a partner dedicated to delivering not just results, but excellence at every step of your digital advertising journey. Our blend of certified expertise, tailored strategies, and creative execution sets us apart, making us the ideal choice for businesses looking to make a real impact with their Google Ads campaigns
Our Google Ads Management Services
With EASYSEO's Google Ads Management Services, you're not just getting an agency that manages your campaigns; you're getting a partner committed to driving your business forward with strategic, data-driven, and continuously optimized Google Ads solutions.
Comprehensive Service Breakdown
EASYSEO's suite of Google Ads Management Services is designed to cover every aspect of your digital advertising needs. We offer a full range of services that include, but are not limited to, keyword research and selection, ad creation and optimization, bidding strategy and budget management, landing page optimization, and campaign tracking and analysis. Each service is executed with the utmost precision, ensuring that your campaigns leverage the full potential of Google Ads to achieve your business objectives.
Campaign Strategy Development and Implementation
The foundation of any successful Google Ads campaign is a robust strategy. At EASYSEO, we begin by understanding your business, market landscape, and competitors. This insight, combined with our Google Ads expertise, allows us to develop a comprehensive campaign strategy that aligns with your goals. We then meticulously implement this strategy, setting up campaigns that are optimized for success from the get-go. Whether your focus is on increasing brand awareness, generating leads, or driving sales, our strategic development and implementation are tailored to meet your specific objectives.
Continuous Testing, Optimization, and Focus on ROI
We believe that a Google Ads campaign is never truly 'complete'. At EASYSEO, we continuously monitor and test various elements of your campaigns, from ad copy and imagery to targeting and bidding strategies. This relentless pursuit of optimization ensures that your campaigns are not just performing, but constantly evolving to become more effective. Our focus is always on maximizing your return on investment (ROI). We employ strategies that aim to increase conversions while reducing costs, ensuring that every dollar you spend is working as hard as it can for your business.
Advanced Analytics and Reporting
Data is at the heart of everything we do at EASYSEO. Our Google Ads Management Services include the use of advanced analytics tools to track and analyze the performance of your campaigns. We provide regular, detailed reports that offer insights into what's working and what can be improved.
These reports are not just a collection of data points; they are a roadmap for future strategy, providing actionable insights that help in refining your campaigns. Our transparent reporting ensures you have a clear understanding of how your investment is performing, empowering you with the knowledge to make informed decisions about your digital advertising strategy.
Comprehensive Approach to PPC
EASYSEO's comprehensive approach to PPC, with an emphasis on integrating Google Ads and leveraging AI and automation, ensures that your campaigns are sophisticated, agile, and deliver the best possible results. Our strategy is designed to place you at the forefront of digital advertising, maximizing your online impact and driving tangible business growth.
Integrating Google Ads into Overall PPC Strategy
At EASYSEO, our approach to PPC (Pay-Per-Click) advertising is holistic, recognizing that Google Ads is a vital piece of a larger digital marketing puzzle. We seamlessly integrate Google Ads into your overall PPC strategy, ensuring it complements and enhances other advertising channels like Bing Ads, social media advertising, and display networks.
This integration is key to creating a cohesive and comprehensive online presence. We align the messaging and objectives across all platforms, ensuring a unified brand voice and consistent user experience. This multi-channel approach not only maximizes reach and engagement but also optimizes your advertising spend by targeting users across different platforms based on their behavior and preferences.
Leveraging AI and Automation for Enhanced Campaign Management
The digital advertising landscape is evolving rapidly, and at EASYSEO, we harness the power of AI (Artificial Intelligence) and automation to stay ahead of the curve. By leveraging AI, we enhance our campaign management through predictive analytics, advanced audience segmentation, and automated bidding strategies. AI algorithms analyze large sets of data to identify trends and patterns that might be missed by human analysis. This leads to more informed decisions about targeting, ad placement, and content optimization.
Automation plays a crucial role in making campaign management more efficient and effective. Routine tasks like bid adjustments, A/B testing, and ad rotations are automated, allowing our team to focus on strategic and creative aspects of campaign management. Automation also enables real-time adjustments to campaigns, ensuring that your ads are always optimized for the best performance. By combining AI and automation, we ensure that your Google Ads campaigns are not only data-driven and targeted but also constantly learning and adapting to changes in user behavior and market dynamics.
Client-Centric Approach
EASYSEO's client-centric approach is at the core of our service philosophy. Our comprehensive consultation and customization process, combined with genuine client testimonials and insightful case studies, illustrate our dedication to not just meeting, but exceeding client expectations in Google Ads management. This approach ensures that when you partner with EASYSEO, you're not just getting a service provider, but a dedicated partner invested in your success.
In-Depth Client Consultation and Customization Process
EASYSEO's approach to client engagement begins with a thorough consultation process. We understand that each client has unique needs and objectives, and our goal is to tailor our Google Ads management services to align perfectly with your specific requirements. During the consultation, we delve into understanding your business model, target audience, market position, and competitors. This deep dive allows us to gather valuable insights that are critical in crafting a customized strategy.
The customization process is a collaborative effort. We work closely with you to define clear goals, whether it's increasing brand awareness, driving sales, or generating leads. Based on these goals, we create a personalized plan that includes targeted keywords, ad copy, budget allocation, and a performance tracking framework. Our team ensures that every aspect of the campaign is aligned with your business's unique voice and objectives, providing a truly bespoke Google Ads experience.
Client Testimonials and Case Studies
At EASYSEO, we believe that our success is reflected in the successes of our clients. Our client testimonials and case studies serve as a testament to the effectiveness of our Google Ads management services. These testimonials provide insights into the experiences of our clients, highlighting our ability to meet diverse needs and exceed expectations.
Our case studies offer a detailed look at specific campaigns we've managed, showcasing the challenges faced, strategies implemented, and results achieved. These case studies not only demonstrate our expertise in Google Ads management but also provide concrete examples of how we've helped businesses similar to yours grow and succeed. By featuring real-life scenarios and outcomes, these case studies underline our commitment to delivering measurable results and high client satisfaction.
Keeping Up with Google Ads Trends
EASYSEO's approach to keeping up with Google Ads trends is centered around a commitment to continuous learning, development, and adaptation. By staying informed and adaptable, we ensure that our clients' Google Ads campaigns are always at the cutting edge, delivering optimal results and maximizing return on investment in the ever-evolving digital landscape.
Staying Ahead in the Ever-Changing Landscape of Google Ads
Staying current with the latest trends and changes in Google Ads is crucial for maintaining a competitive edge. At EASYSEO, we are committed to keeping our finger on the pulse of the evolving Google Ads landscape. Our team is continually monitoring industry news, updates from Google, and shifts in online consumer behavior to ensure that our strategies and tactics are not just current, but also future-proof.
To stay ahead of the curve, we participate actively in Google Ads webinars, workshops, and training sessions. These educational opportunities are vital for our team to acquire new knowledge, learn about upcoming features, and understand evolving best practices in Google Ads management. This commitment to ongoing education ensures that our team is well-equipped to leverage the latest tools and techniques in Google Ads.
Emphasis on Continuous Learning and Development
Continuous learning and development are ingrained in the culture at EASYSEO. We understand that the digital advertising space is constantly evolving, and staying stagnant is not an option. Our team members are encouraged to pursue certifications, attend industry conferences, and engage in professional development activities. This not only keeps our skills sharp but also brings fresh perspectives and innovative ideas to our client campaigns.
Adapting to New Features and Technologies
Google Ads regularly introduces new features and updates its algorithms to improve performance and user experience. At EASYSEO, we are quick to adapt to these changes. We test new features in controlled environments to understand their impact and potential benefits for our clients. Our team is adept at integrating new tools and technologies into our existing strategies, ensuring that your campaigns benefit from the most advanced and effective Google Ads solutions available.
FAQs about Google Ads Management
What is Google Ads Management and how can it benefit my business?
Google Ads Management involves creating, monitoring, and optimizing online advertising campaigns on Google. It benefits businesses by increasing online visibility, driving targeted traffic, and enhancing ROI.
How does EASYSEO approach Google Ads Management?
EASYSEO employs a tailored, data-driven strategy, ensuring each campaign aligns with the client's specific business goals, leveraging our expertise in ad creation, keyword research, and continuous optimization.
What kind of budget do I need for Google Ads?
Budgets can vary greatly depending on your industry, competition, and goals. EASYSEO works with a range of budgets and helps determine an optimal spend to meet your objectives.
What are the average prices for EASYSEO's Google Ads Management services?
Our pricing varies based on the complexity and scope of the campaign. We offer competitive rates and can provide a quote after understanding your specific needs.
How is ROI measured in Google Ads?
ROI is measured by assessing the revenue generated from ads relative to the cost of the ads. EASYSEO focuses on key metrics like conversion rates and cost per acquisition to evaluate ROI.
Can I target specific demographics with Google Ads?
Yes, Google Ads allows for detailed demographic targeting, including age, gender, location, interests, and more, ensuring your ads reach the most relevant audience.
How long does it take to see results from Google Ads?
Some results can be seen almost immediately, but it typically takes a few weeks to optimize campaigns and gather meaningful data for more significant results.
Will I have control over my Google Ads campaigns?
Absolutely. While EASYSEO manages your campaigns, you retain full ownership and control. We provide regular updates and transparency in all decisions.
How does EASYSEO keep up with Google Ads trends and updates?
Our team continuously engages in learning and development, staying abreast of the latest trends, updates, and best practices in Google Ads.
What sets EASYSEO apart from other Google Ads management agencies?
EASYSEO stands out for its certified expertise, customized strategies, creative content creation, and a relentless focus on data-driven results.
How often will I receive reports and updates on my campaigns?
We provide regular reporting that includes campaign performance metrics, insights, and strategic recommendations, typically on a monthly basis.
What if I need to adjust my Google Ads budget or strategy?
EASYSEO offers flexible campaign management, allowing for adjustments in budget or strategy as your business needs or market conditions change.
Do you integrate Google Ads with other digital marketing efforts?
Yes, we can integrate Google Ads with your broader digital marketing strategy, including SEO, social media marketing, and content marketing for cohesive results.
Is there a minimum contract period for Google Ads management services?
We typically work with a minimum contract period, but this can vary based on the client's needs. We strive to offer flexibility to suit different business requirements.
How can I get started with EASYSEO's Google Ads Management services?
Getting started is easy. Contact us to schedule a consultation, where we can discuss your needs, goals, and how our services can be tailored to achieve your digital advertising objectives.
Next Step
Take the first step towards transforming your online presence and achieving remarkable growth with EASYSEO's expert Google Ads management. Don't let your business get lost in the digital shuffle. Let us help you stand out, attract the right audience, and maximize your ROI.
Ready to elevate your Google Ads campaigns? Connect with us today!
Contact Us: Reach out to us at info@easyseo.pro or call us.
Get a Free Consultation: Fill out our online inquiry form and one of our Google Ads specialists will get in touch to discuss your needs and how we can help.
Visit Us: We welcome you to visit our office at or a personal consultation.
Act now and let EASYSEO be the catalyst for your digital advertising success!
Final Considerations
Choosing EASYSEO for your Google Ads management means partnering with a team that is deeply committed to your success. Our expertise, tailored strategies, and innovative approach ensure that your campaigns not only reach but resonate with your target audience.
With EASYSEO, you gain:
Certified Google Ads Expertise: Benefit from our team's extensive knowledge and experience.
Customized Strategies: We understand that one size doesn't fit all, and our strategies reflect that.
Data-Driven Decisions: Make informed decisions based on insightful data analysis.
Creative and Engaging Ads: Stand out in the digital landscape with ads that capture attention and drive action.
Continuous Optimization: Stay ahead of the curve with campaigns that evolve with the digital market.
Comprehensive Service Range: From consultation to campaign execution and reporting, we've got you covered.
Partner with EASYSEO, and experience the difference that a dedicated, expert team can make in your Google Ads performance.
Your success is our success, and we are committed to helping you achieve your digital marketing goals. Reach out to us now and start your journey to digital advertising excellence!