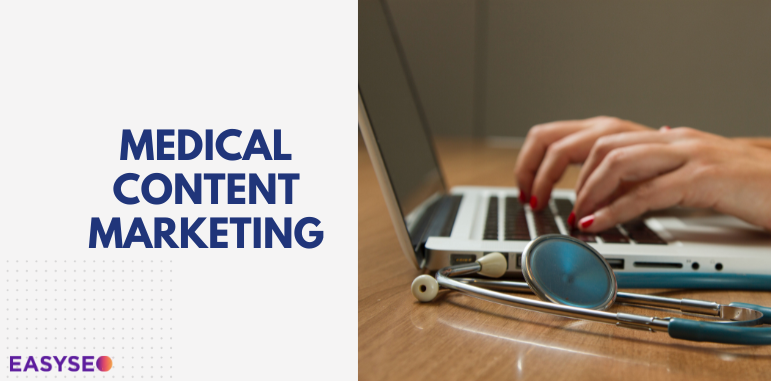 Healthcare content marketing is a practice that involves the promotion of a healthcare specialist and their business through engaging and high-quality online content with the goal of better search engine rankings, more organic traffic and conversion.
One of the biggest challenges for modern healthcare businesses is acquiring and retaining new clients for their business. With the growth of the internet, pretty much every medical practice has to have some kind of online presence since that's what people use in search of relevant services and products.
It also means that in order to differentiate yourself from your competition, you have to be extra thoughtful when preparing your healthcare business marketing strategy. One of such tactics can be the use of content creation to build trust and authority for your practice.
In this article, we will discuss the topic of "Medical content marketing", why it's such a beneficial way for your healthcare practice to grow online and why hiring a professional firm for implementing such a strategy might be your best bet.
First things first, how do you define medical content marketing exactly?
If you don't have much experience or knowledge regarding digital marketing tactics, you might be wondering what exactly content marketing is.
To explain what content marketing for a healthcare provider is, we have to first look at the definition of SEO.
SEO is a long-term marketing practice that involves optimizing a business website and its various aspects with the goal of better rankings on search engines, more natural user traffic and, of course, conversions.
With e-commerce growing at such a rapid rate, every business regardless of their industry has to focus heavily on building their presence and reputation online if they expect to be successful these days.
Content, meanwhile, is the most important aspect of an overall SEO strategy, that directly influences what rankings we get, how much traffic and eventual conversions we generate.
In the healthcare industry, authority and trust are other major factors that influence the success of a business. Usually, people will come to your website looking for answers, clarification or general information regarding the services you offer.
If properly implemented, a content marketing strategy for a healthcare business can work wonders, as it gives you the perfect opportunity to build your business as a true powerhouse in your respective niche.
This is especially true, if you go the extra mile when compared to your competition.
Why is content marketing a crucial tactic for healthcare providers?
As mentioned before, the influence of the Internet on people's daily lives has grown exponentially and for many, it's the go-to way to look for services, products and information that is relevant to them.
The healthcare industry is no different.
In fact, some statistics indicate that almost a billion searches made daily on Google are in some shape or form related to healthcare. This means that for professional practitioners, heavy focus should be given towards building the online presence of their business.
Content, as we established before, plays a crucial role in such a long term strategy.
A marketing tactic based on creating valuable content helps to:
Establish trust and authority in you and your company by showing expertise in your respective field
Lets people know what to expect from the services you provide, thus reducing first time anxiety, especially if it's something they have no knowledge about.
Differentiate yourself from your competition by going the extra mile and being more informative and engaging with your audience.
Capture valuable search traffic from your target audience, thus leading to more leads and physical arrivals to your clinic.
Among other things.
The good news is that a content-based promotion strategy can be applied to any healthcare niche, regardless of your business goals, and you don't need much preparation to successfully implement it.
What's necessary to start with content marketing efforts for your healthcare brand?
As mentioned, perhaps the biggest benefit of such a strategy is the fact that it can be applied for any health business and any overall marketing objective, without major preparations.
The main ingredients for such a digital marketing strategy are:
Expert-level knowledge of a healthcare field
Copywriting skills
A website that allows you to publish simple blog posts.
As a healthcare professional, you probably already have expert-level knowledge in your field, so one of the boxes can already be checked. The next important step is to successfully utilize that knowledge and experience to create content for your website visitors.
Writing a simple blog post won't be difficult, however the goal here should be to not only inform users and answer the questions they have, but also encourage them to get in touch with your business and convert.
Furthermore, a healthcare marketing strategy won't only involve simple blog posts but also larger education texts, testimonials from clients, and potentially even video content related to your services.
That's why your best bet would be to work with a professional copywriter who can not only generate ideas, but also help you compose engaging, search-engine friendly content that will allow you to convert your website visitors into customers.
Of course, another essential for this tactic to work is a website that allows you to publish posts for users to see. If you're reading this post, you likely already have a website for your healthcare business.
Whether it's based on WordPress, Joomla or any other type of CMS systems, you shouldn't find much difficulty publishing a simple post.
Knowing your audience: Why is it important to distinguish between B2C and B2B healthcare content marketing?
Another important thing to consider before planning out a content marketing strategy is your target market.
Typically, healthcare companies fall into two categories based on who their clients are:
Individual clients and patients – this is otherwise known as a business-to-consumer (B2C) healthcare practice.
Other healthcare brands and businesses – this is also known as a business-to-business (B2B) healthcare practice.
Depending on your target base, a successful healthcare content marketing strategy will have to follow a certain set of rules.
How will your content be different depending on your target audience?
The type of language used
The first major thing will have to be the language you use. If your client is another healthcare company in need of your services or products, you can allow yourself to be more complex and technical to better illustrate what you're offering.
Working with individual clients, however, will differ significantly. Since it's impossible to say the exact level of knowledge they have in regards to the products or service that you are offering, it's better to keep it simple when creating content for your website.
As you get more data down the road, it will be easier to fine tune the language you use and other features of your content in the future.
Content complexity
On a similar note, the content itself can be more complex if your target audience involves other businesses since you're sending a message to other colleagues in the healthcare sector.
With individual clients, however, it's difficult to tell how they will react to more technical subject matter, so again, try to be as simple as possible.
The idea of simplification is good in both cases, just as long as it conveys the exact message you want.
Channels to reach your target audience
Another thing to keep in mind for your healthcare content marketing strategy is the channels you will use to reach your main user base. Depending on whether you're targeting medical professionals or casual patients, your channels will likely differ.
For individual clients, the most effective way for promotion is usually social media platforms, business listings and other similar mediums where short, to the point pieces of content are most effective to send your message.
When working with other healthcare professionals, however, one should keep in mind that they are far more likely to engage in longer articles and more complex documentation relating to your industry.
Social media sites like LinkedIn do work well, with other business related platforms to keep in mind.
Of course, in any case, you will be leading users back to your website which is where your main selling efforts should happen.
A few general key points for your healthcare content marketing success
After discussing the types of clients you might work with and how your content will change depending on that, let's discuss a few extra key points to keep in mind for your overall content strategy.
Remember, you're writing for your audience not yourself
The main goal when creating any piece of healthcare marketing content is to publish material that is relevant to the audience that you are aiming for.
THEY have to find that information interesting, helpful and engaging, not you.
A humane, conversational approach works best
While it's important to maintain an authoritative approach for your content as an expert in your field, making everything too official may lead to your audience being less engaged.
When necessary, offer simple explanations and comparisons, especially if you're explaining more technical stuff or research data. Remember, the main goal here is for your content to be easily understandable and relatable, so maintain some humanity.
Avoid overkill with your promotion
Why call-to-actions are necessary for any type of marketing approach, make sure not to over do it. If people clicked on your article, that means they are looking for answers and information from you, not an aggressive advertisement shoved in their face.
Are you really the best choice for your potential patients? If so, then prove it. By writing quality content that's actually useful for people to read, you will build authority and trust for your practice over time.
A content marketing strategy takes time to deliver
Another important thing to understand is that such a strategy will deliver results only after a period of time.
If you've never done something like this before, or if you've just opened up a website for your practice, you first have to grow your reader base and gain people's trust before they start actually getting in touch with your business.
Of course, this strategy will work with other, more immediate marketing methods.
Stay consistent with your content
Finally, there's the aspect of consistency. Posting blogs or newsletters regularly is a great way to keep the name of your practice in the minds of customers, inform them of special offers, share advice and so on.
Of course, be realistic with what you can accomplish. If a post every week is all you can do, that's completely fine, just make sure you can maintain your consistency as that's how you build a reader base.
What are some good ways of promoting your content?
While creating content is one thing, an essential part of your strategy should also involve content promotion, especially if you are a practitioner just starting out.
Letting people know about your articles, research papers, guides, videos and other content is a sure way to develop a loyal reader base.
Some channels worth considering include:
Various social media channels, pages and groups
Emails and newsletters
PPC campaigns (requires financial investment)
Letting people know about your website if they visit you physically
And so on.
Looking for someone to help your business out? Hire an Experienced Healthcare Content Marketing Agency
In order to successfully implement a healthcare content marketing strategy for any practice, many things have to be considered, from SEO, to the best possible approach suitable for that business, as well as how to make the content understandable, marketable, and engaging.
As a digital marketing agency with more than 10 years of experience in healthcare marketing, our team at EASYSEO knows what's best in order to grow your online presence through the means of engaging content.
We offer content writing as well as content strategy for our clients.
Content Writing
Our team of copywriters knows exactly what language and medium is best to reach your target audience. We can create compelling content that helps build trust in your brand and attracts new clients.
We can help you with:
Short articles and blog posts – strategic blog posts can help your website build authority and grow its search engine rankings. We can promise engaging, informative, and easy-to-understand content that will help you get more conversions.
Patient testimonials – when visiting any health-related website, users expect to see honest testimonials from your clients to see if the service is really right for them. Our team can help collect testimonials and recommendations from your former clients to showcase for visitors.
Newsletters and emails – a great way to keep an audience updated and informed about your business is through regular newsletters and emails. We can draft engaging newsletters that will keep your business in the mind of your audience.
Social media posts – various social media platforms such as Facebook, Twitter, or Instagram can be a valuable source beyond your website to get noticed by potential customers. Allow us to craft eye-catching posts on social media that will get clicks for your business.
Content Strategy
A successful content marketing strategy will involve regular publishing, monitoring and perfecting the content found on your website.
If you feel like your current marketing strategy does generate the results you expect, allow our team to conduct an in-depth audit of your current approach and find new ways to grow your online presence.
If you prefer, we can also develop the most effective content strategy for you from scratch, using an analytical approach which takes into consideration your niche, current state of your website and your target audience.
Main things in terms of strategy that we can do are:
Develop a framework for how to write engaging, search engine-friendly content using your expertise. This can be very helpful if you plan on writing articles yourself, but don't have much experience with copywriting.
Conduct an audit of your current content found on your website, social media or PPC accounts. This can be useful in order to evaluate whether or not your current approach brings maximum results.
Manage and write original, informative and engaging content that helps grow your search engine rankings, organic traffic and leads to more conversions.
Provide advice on what type of content to use to better achieve your business goals.
Among other things.
If you are looking for an experienced digital marketing agency that can help you with your medical content marketing efforts, don't hesitate to contact EASYSEO.