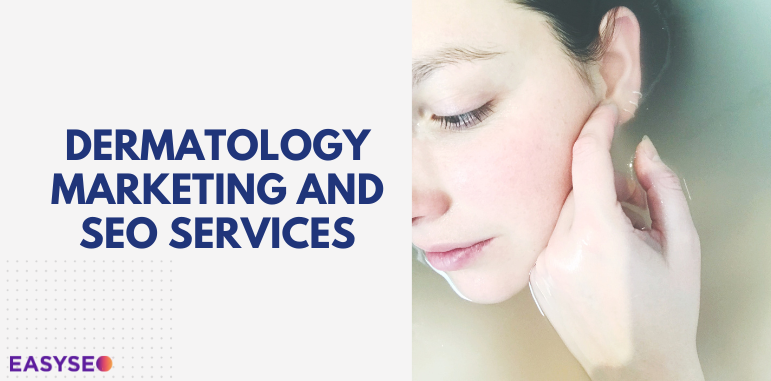 Dermatology marketing – is the practice of promoting a dermatology business through various online and offline means.
With more awareness among patients than ever regarding skin-related diseases as well the rising popularity of various cosmetic skin procedures, dermatologists are becoming increasingly wanted healthcare specialists for hire.
To make sure your business reaps the benefits of such an increase in demand, you have to place maximum effort on promoting your practice and make sure customers find you with ease.
For this to happen, you have to implement a successful marketing plan that accents your unique traits, differentiates your business from others and attracts your core audience.
Below we discuss the essentials of a good marketing strategy for dermatologists, the importance of the online medium for marketing efforts and why you should seriously consider hiring a digital marketing agency like us to extract the maximum out of your business.
What is the most important aspect of a successful dermatology marketing strategy?
Nowadays, the internet has become an irreplaceable part of our daily lives, whether as a place to entertain ourselves, connect with others or find relevant information.
The impact of the internet can be seen in terms of marketing as well. It's no secret that the majority of people look for products or services that they are interested in online as well.
Adding the rise of social media to that as well and it is obvious that a modern marketing strategy for any business should heavily favor online resources.
In order for your strategy to work you must ensure that your business has great online visibility, appears professional and has all the necessary tools to attract new patients.
What are the best tools to promote your dermatology practice?
With the online medium becoming more and more prevalent to attract new clients, you as a business owner have to employ every available tool to promote yourself.
Below we list the most important one that should be at the core of your marketing strategy.
Competent website
When implementing an online marketing strategy, the most important thing nowadays is a well-developed, attractive and user-friendly website for your dermatology practice. You can think of it as being the front desk of your clinic, just online.
This is where people will get their first impression on your business and decide whether or not they want to engage with your dermatology clinic.
We would argue that the main things you should focus on when developing your website are simplicity of design and usage, as well as making sure that the key information like the conditions you treat, testimonials from clients are displayed in clear view.
With the help of search engine optimization and its practices, your website can be developed into a true powerhouse that ranks well, generates organic traffic and helps you make sales.
More on that, a bit later.
Social media platforms
Another important tool to help you grow your practice online can be social media. While initially being platforms for people to engage with friends or family members, nowadays social media has a much larger impact than that.
People often use social networks to find relevant information related to a business, study the reviews that people left, among other things in order to make sure that a company is truly legit. This is especially true for those businesses that are engaged in medical practices.
An active social media account for your company will work wonders in terms of establishing
Business listings
As people use search engines like Google to look for products and services that they are interested in, a phenomenon known as local search has risen in popularity recently.
When searching for a dermatologist, people will type in queries like "dermatologists near me" or "top dermatologists in [city]" to find relevant results nearby.
This is why it's also important for your dermatology marketing strategy to use local business listings. The most popular one, without a doubt is Google My Business, a listing that goes hand in hand with Google, the most popular search engine by far.
With it, you can easily control how your business will appear to potential patients on Google Search as well as Google Maps through proper management of your business profile.
Be sure to list and frequently update the most important information regarding your business, with things like your business hours, phone number, location and name of the clinic being at the forefront.
PPC Ads
For businesses that have just started out, PPC Ads could be a great asset to spread word about themselves and get people to their website immediately. Many social media platforms as well as Google allows businesses to launch and customize ad campaigns to their liking.
With Google Ads, for example, you can easily target those people that are actively searching for the services that you offer and pay only for clicks received to your website. This is a quick, although often quite expensive method of gaining traffic.
Furthermore, it's very easy to track the success of your campaigns and adjust any things that may be necessary in the long run. With tools like Google Analytics, it's possible to track the analytical side of your campaigns and make immediate changes when necessary.
The biggest drawback here is the fact that it will take some time and effort to find the optimal keywords, target audience and ad copies that work the best for you.
For optimal results, you should seriously consider hiring a digital marketing agency that has experience in PPC ad management.
EASYSEO digital marketing and SEO services for your dermatology practice
As a digital marketing agency with more than a decade of experience working with a variety of healthcare experts, we know what's best for small dermatology practices looking to make an impact on their local market.
If you are looking for a competent team that can help you with things like web design and development, SEO and implementing a successful marketing strategy for dermatologists, look no further than EASYSEO.
Below are just a few things we can do to help your dermatology practice.
SEO for your dermatology practice
SEO is the practice of optimizing a website for relevant keywords, with the main goal of ensuring better rankings, more organic traffic and of course, sales.
Our team of experienced SEO specialists can help shift your marketing efforts towards a long term strategy that will make your website a true powerhouse in your niche. Instead of focusing on paid social media or search engine ads, work is done towards improving the quality of your website, achieving higher search engine positions and making it effective in the long run.
Some of the main benefits of SEO include:
More organic (free) traffic from search engines
Possible to achieve results even on a limited budget
Better brand awareness online
Easy to measure and analyze results.
Among other things.
Local SEO
With the rise of local search, it's important for businesses to be visible on local business listings. For many dermatologists, local search can arguably be the most crucial aspect of their business.
As an experienced SEO team, we can help your clinic grow its brand name and authority locally, and help differentiate your business from your competitors.
Social media for dermatology practices
Nowadays, social media is an important channel to utilize in order to get maximum exposure for your dermatology business.
Our social media experts work hand in hand with our designers to make sure your brand develops a unique and effective voice on Facebook, Instagram or Twitter that separates you from the competition.
Dermatology lead generation
Generating leads is often one of the main goals for healthcare businesses.
We can help design a user-friendly website that will encourage customers to leave their emails, phone numbers and enquiries for you to engage with.
Dermatology pay-per-click
PPC campaigns are a fast and effective way for new websites to generate traffic and leads.
Our team of Google Ads specialists can help create and manage effective ad campaigns for your dermatology practice.
Request a quote today
If you're looking for a digital marketing agency that has years of experience working with healthcare businesses, knows how to implement an effective SEO and other marketing strategies, look no further than us.
Get in touch with us today and let's maximize the potential of your company, together..