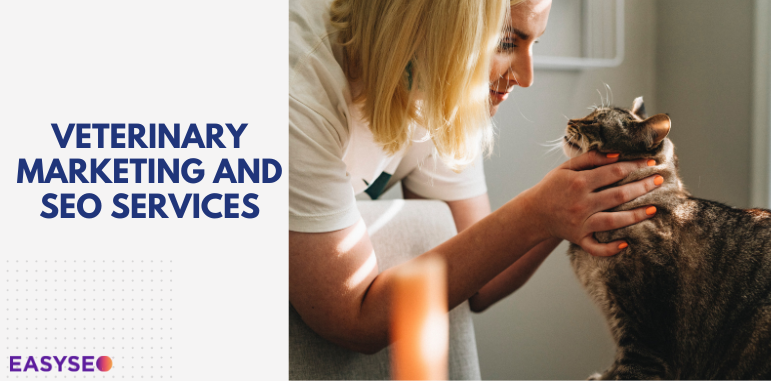 Veterinary marketing is the practice of promoting a veterinary clinic through various marketing channels suitable for such a business in the aim of attracting new clients.
With the emergence of ecommerce, a successful marketing strategy these days has to lean heavily on online resources, since that's where the majority of people look for relevant information, products and services.
Your veterinary practice is no exception. Pet owners who look for animal care specialists locally, want to find ones that are trustworthy and are true professionals of their craft.
In order to stand out from your competitors, you have to develop a strong website, build a brand name and of course, implement a successful marketing strategy.
Below we talk about the key points related to veterinary marketing, discuss how to create a website suitable for such a business and argue why you should consider working with a digital marketing agency like us.
What defines a good veterinary marketing strategy?
Naturally, every veterinary clinic has the goal to be the best and provide the best possible services for their clients. However, with the world of digital marketing becoming ever so competitive, it's more challenging than ever to differentiate yourself from others and find long term success.
However, success is possible with the right marketing strategy. Since more and more people look for such services online, your marketing plan should lean heavily on such channels as your own website, social media, online ads and so on.
In the next section, we dive deeper into what makes up a competent marketing plan.
How to develop a marketing plan for your veterinary business
At the core of your business marketing strategy is a well-developed marketing plan which clearly defines your business goals and the tactics you will use to achieve them.
With the help of it, you should clearly see what your main objectives are, your target audience, the resources you can use, as well what actions need to be taken in order to achieve desired results.
If you've never developed a marketing plan for your veterinary clinic for the online medium, it might seem a bit of a challenging task at first. However, the goal here is to keep everything as simple as possible.
Just writing everything down will allow you to better flesh out your business aims and give you a better idea how to utilize the resources that you have to achieve them.
Some of the main things a business plan for a veterinary practice should include:
Goals – every online business has its own set of goals. For a veterinary practice it usually involves brand building, boosting website visibility and of course attracting new clientele.
Target audience – naturally, the next important thing would be to define your target audience. Pet owners would be an obvious choice, however you will likely need to go into more detail than that to separate yourself from the competition.
Competitors – another key thing would be to carefully analyze your competition. This means understanding what efforts they put in building their website, what marketing channels they use and of course, trying to find ways how to best them.
Marketing channels – the next thing you need to specify are marketing channels that you will use to promote your business. While the best long term strategy is considered to be SEO, social media or paid ads can also be good ways to spread word about your practice..
Action plan – finally, you should develop a plan with everything mentioned and how you will use your resources to achieve those marketing goals. In this segment, you will need to be more specific as to define the exact actions you will take.
Why is online marketing so important for veterinary practices?
Nowadays, the majority of people use the internet to search for relevant information, communicate with their loved ones, or purchase products and services.
Regardless of whether or not you are a new practitioner looking to build your brand from scratch, or a true industry veteran just migrating online, you should be aware of the advantage that online marketing has for a veterinarian.
Here are the main ones:
It's relatively cheap – marketing your business through online means is significantly cheaper than using more traditional media. With the help of social networks, paid ads and even a long term SEO strategy you can utilize your website to be at the forefront of your business for years to come.
Marketing efforts can be tuned very specifically – the internet allows you to reach your target audience much more easily with things like personalized ads aimed at people based on their gender, age, income and many other factors. This ensures their relevancy and increases the chances of people converting at your website.
Outreach can be much bigger – online marketing allows you to utilize social media, search engines and other means to reach the maximum number of people for your business. This results in a far bigger and specific outreach than your typical advertising means.
Why is it important to build a good website?
As mentioned before, your website is the most important tool for your business nowadays. As more and more people search for goods and relevant information online, having a website that is professional, functional and competitive has never been more important.
The good news is, it's never been as easy to make your website as it is these days. There are plenty of tools out there for design, customization and taking care of other parts that are crucial for a successful website.
Of course, making sure everything is right and ready for you might pose a challenge, especially if you're not that tech-savvy to begin with. If that's the case, you should consider hiring a digital marketing agency like us that can not only help you build a website, but develop it into a true powerhouse for your business for your veterinary practice.
EASYSEO digital marketing and SEO services for veterinary practices
With over a decade of experience working with veterinarians locally and internationally, our team knows what's best for small businesses looking to build a successful brand.
If you are looking for a team of expert web designers, marketers and SEO specialists that know what it takes to help a veterinary practice reach its full potential, look no further than EASYSEO.
With everything from initial design sketches to the development and implementation of a competent marketing strategy, we can ensure that your small business gains a strong footing in your desired market.
Below are some of the services we provide for veterinarians.
SEO for veterinary practices
If you're completely new to the world of digital marketing, you might be wondering what SEO is all about to begin with. In simple terms, it is the practice of developing a website with the goal of reaching the top of search results on search engines, thus leading to more traffic and sales.
Instead of investing in short term strategies like ads on social media or Google, SEO efforts that our team provides are focused on bringing benefits in the long run by improving the quality of your website and getting better rankings.
While it does take longer to see the maximum results that such a strategy can bring, it is far more beneficial than focusing on expensive short term strategies.
Here are some of the main benefits of SEO:
More people visit your website organically via search results
Results are possible even on a tighter budget
Your brand recognition increases
Results can be easily observed, measured and analyzed.
Local SEO
Local SEO focuses on optimizing your website for local search results. For many veterinarians it is key to be the most prominent business in their area. Many people looking for such services use queries like "best veterinarian in (city)" or "top vets in (city)".
Our focus here would be to increase the visibility of your business on local listings, build the legitimacy of your brand and of course, get people to get in touch with you.
Veterinary social media
As mentioned earlier, social media is one of the most powerful tools for businesses that must be utilized for brand promotion and attracting new clients. Our social media experts work together with web designers to make sure that your business gets all the right online exposure.
Regardless of whether it's Instagram, Twitter or Facebook that we are talking about, having a strong voice on social media can benefit any veterinary practice.
Veterinary lead generation
A properly developed website is the best way for people to connect with your veterinary business.
Our team of programming and web design specialists can create specific forms to help you collect emails, phone numbers and enquiries from customers.
Veterinary pay-per-click
PPC campaigns can be an effective way to generate traffic in the short term, more leads and sales for your website.
Our team specializes in the development and management of successful Google Ads campaigns for veterinary businesses.
Request a quote today
We believe that every veterinary business deserves the best marketers to reach their business goals. If you want your website to be competitive, rank high and successfully generate sales, look no further than our digital marketing agency.
Get in touch with us today and we will start working on your website in no time.